Where to stay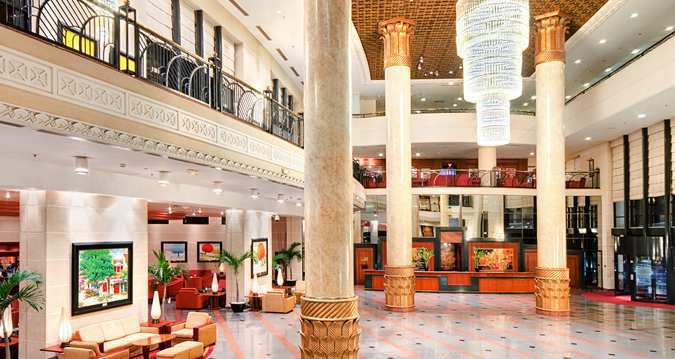 Thinking of a comfortable place to stay during your business trip to Hanoi, you have the Hilton Garden Inn to make yourself comfortable and refreshed after long-hour working.
Located at the corner between Tran Hung Dao Street and PhanChau Trinh Street, Hilton Garden Inn has the most convenient location in the commercial district of HoanKiem. From here you can walk to many attraction spots. If you want to travel further uptown, it is also easy to call for a taxi at any time of the day.
The hotel values the maximum comfort of your stay. Thus, they have put an emphasis on installing the best and most innovative technology of comfort. For example, the hotel has the uniform usage of the Garden Sleep System® beds which guarantee you sleep deep. The 24 hour accessible Pantry has all the thing you need for either a snack or a meal with a micro-wave, in case you work late or do not really have enough time to have even a quick bite. The hotel also is suitable for conferences and social activities. They have a 100m2 meeting room for a big group. The 24-hour business centre of complimentary usage so that you can contact with your home office.
There are three groups of rooms at Hilton Garden Inn Hanoi. The first one is Guest Rooms with either king or twin bed. Even in this room, you already have two telephone lines, hi-speed internet, data port, voice mail, desk-level sockets to stay in business anytime. Accessible Rooms is also of the size of 24 square meter with a king bed. This room class also offers the same amenities which is business-friendly. . The highlight of Accessible Rooms is their access to private balconies from which you can have a city view into the Capital's French-style Quarter. The biggest room style is Suites, of course. By checking into a Suites, you can separate your work life and private corner through the separation between living room and bed room. The living room is decorated in the warm tones with a touch of comfort and profession.
The Garden Grill Restaurant is an in-house response to your need of dining. The restaurant features the traditional Vietnamese noodle-pho for breakfast and also caters many Asian specialties during lunch and dinner. So you stay internationally and still eat locally.