What to do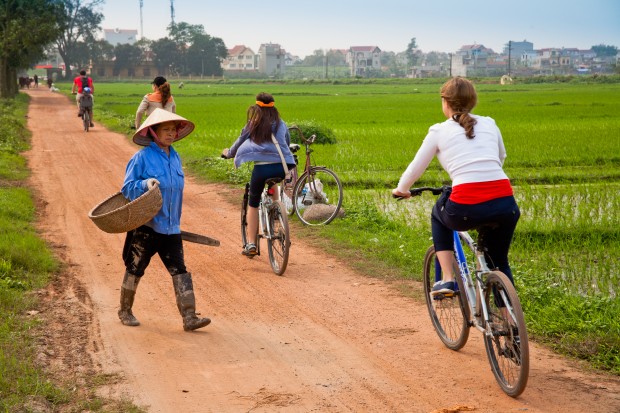 Since ancient times, the Red River in Hanoi gave vitality of a center of the country. It has been the blood line of the many people by its bank. Thus there is no surprise that there are many thriving traditional villages and temples along the river bank.
Today, the Red River is still important transportation route in Hanoi. Particularly, the area of the river flowing through Hanoi has witnessed many historical events into people's memories of Vietnam. In the struggle to protect the country sovereignty, the Red River is a mirror reflection of the loyalty and sacrifice of the legendary Hanoi.
Keeping the historical meaning close to heart, today's Red River is a tourist route by canoe and small boat, useful for travelers who want to learn the history associated with the river of Hanoi and Vietnam. With Red River Cruises, visitors will have a fresh view of the aged old city of Hanoi, to tune into the charming riverside landscape, the beauty of the temples of ancient time, visiting residents living and visit Bat Trang pottery village.
There are many Red river tours that bring visitors to the various destinations along the river bank. The trip usually starts at 730am at the Chuong Duong Do Wharf. It will then take you to one of the pagoda that worship one of the famous man in the past. This could be Dam Pagoda and Dai Lo temple in Ha Tay province. Guests will then have lunch on board. In the afternoon, visitors will stop at Chu Dong Tu pagoda before visiting Bat Trang ceramic village. There are many legends associated with Chu Dong Tu pagoda with one being the place where a princess met a common man who would then got married to her. Bat Trang ceramic village is where travelers have chance to look at the arts and crafts of the local people and possible shop for some special gifts.
The boat will take you back to the wharf at around 430pm. All programs will have a guided tour, however mostly in Vietnamese. Thus it is recommended to check if English speaking tour guide is available. The price typically ranges between 300.000VND – 500.000VND with lunch, attraction entrance fee and local guide. The tour has a strict timeline so it is good to stick to group or it is impossible to go all the places. Checking weather forecast is helpful to ensure your trip as pleasant as possible.