Tours around Ha Noi
On this two-day tour, you will experience local hospitality from an ethnic minority family, take a tranquil river trip, explore caves and see the landscape change from rice cultivation to forests to towering mountains.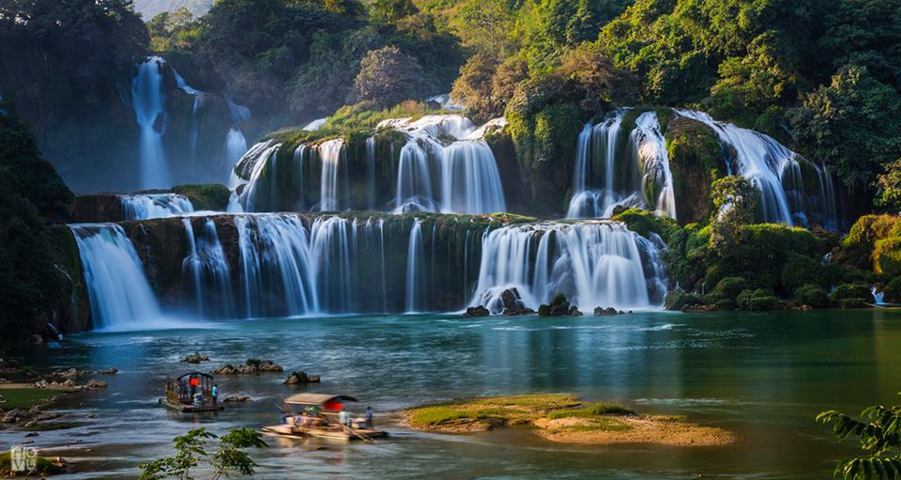 Day 1 HANOI – BA BE LAKE (L/D)
7.30 - 8:00 An early start to the day to make the most of what we have in store for you. We will pick you up from your hotel in Hanoi at 07:30 AM and then hit the road north towards Ba Be National Park. Lunch will be had in a restaurant in a village on the way, and then our route will take us up through the mountains and tea plantations to Ba Be lake, an amazing green lake in the middle of a natural green forest. You will then travel to the Tay village of Coc Toc, with its beautiful stilt houses and friendly population of Tay people, who make their living by fishing in the stunning Ba Be lakes and farming. You will stay in the homestay of a local family here, enjoying their wonderful hospitality. In the afternoon, you will have some time to explore the beautiful surroundings. You will then enter Hua Ma Cave which features thousands of stalactites and columns. You may also wish to take the option of walking or cycling around Coc Toc village, kayaking on the lake in boats that we reserve for our tour guests, or simply relaxing in the peaceful surroundings and enjoying the views.
Day 2 BA BE LAKE – HANOI (B/L)
After breakfast at the homestay, you will go on foot to Bo Lu Quay where you will board a boat trip around Ba Be Lake. You can relax on board, do some wildlife spotting or if you need to cool off, you can jump into the cool, clean waters for a refreshing swim! As you float down the Nang River, you can take in the scenery of the surrounding karsts decorated with patches of wild vegetation and inhabited by all sorts of interesting creatures. Look out for the rainbow of butterflies that flit across the sky or listen to the gentle song of the many species of birds in the park. The boat will come to Puong Cave where you can explore the stalactites and stalagmites which are a result of the erosion of the river on the karst as well as looking out for the bat colony several thousand strong. After your, exploration of the lake, you can rest on the drive back to Hanoi, taking in the beautiful scenery on the way. You will stop for lunch at a local restaurant on the way before arriving back in Hanoi at about 17:30.
Transport:
- Boat.
- Vehicle.
Meals:
- 1 breakfasts.
- 2 lunches.
- 1 dinners.
We choose local ingredients, typical of the way people eat in the area, at local restaurants, markets or homes.
We also cater for Vegetarians but please request this at time of booking.
Accommodation:
- Homestay (1 night),
Our clean and comfortable homestay with mosquito net provided.
Our tour departs daily. Please contact us: [email protected] or Call us: +84 934 584 399 to book your tour instantly.