Hanoi Streets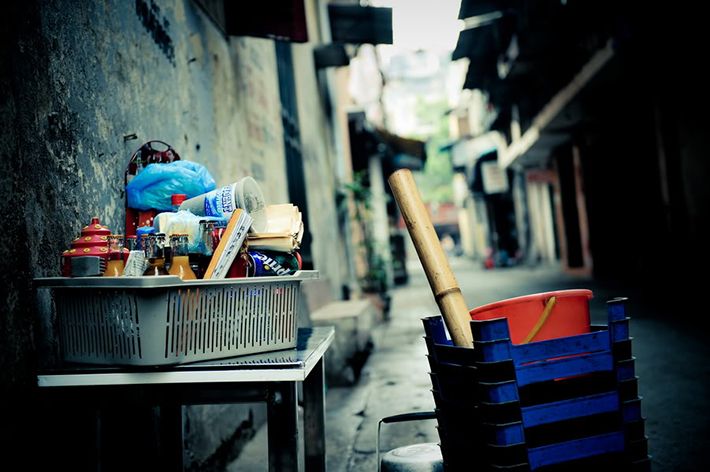 Luong Ngoc Quyen Street is in the Old Quarter of Hanoi with a lengthe of 334m. It is in the border of the Hang Buom Ward, HoanKiem District, Hanoi.
This the land of the old UuNhat and NguVong hamlet, ThoXuong district. There has been none left of the two hamlets. The number 10 of Luong Ngoc Quyen was once the communal temple. The name in the French time of the street were Rue Galet and Rue Nguyen Khuyen. After the revolution, Luong Ngoc Quyen got its contemporary name.
In the early 20th, this area was studded by pools, ponds and swamps- thus the name of Fishery Road. Its main residents were fisheries. Some poor Chinese also liver here in rundown tents at winding roads. After that, the urban planners covered up all the water tracks creating the road of Galet.
The street of Luong Ngoc Quyen has the even number side including 9 houses of two stories owned by a landlord who rent his property to other small businesses. They mainly sell street food such as chowder, noodles and dumpling. Among them are some houses with trade of tailoring or mechanics.
On the side of odd numbers is a large storage which once belonged to the significant merchant of Chi Long. Next to that was a soy sauce workshop which now is a tofu workshop.
Luong Ngoc Quyen is rather well-known among backpackers. The intersection between Luong Ngoc Quyen and Ta HienStreet is the so-called international intersection where backpackers sit down for cheap beer and new friends. The street itself caters to anyone and any need. The hostels and hotel are cheap in this area. Also, all of the coolest and hip bars are all on Ma May Street. What is more wonderful is the street vendors here who sell good treat such as sticky rice and noodles to fill up the hungry party animals.