Where to stay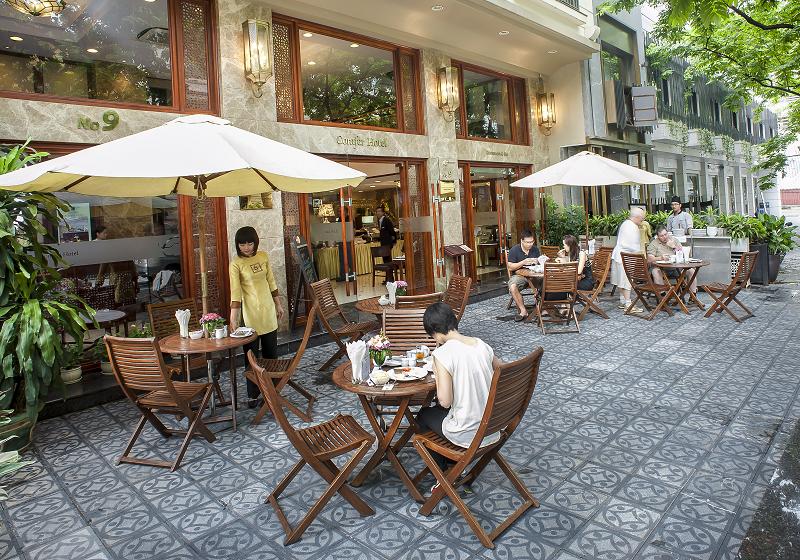 The Conifer Hotel is quite a new player in the scene of the Old Quarter. The elegant boutique hotel has just launched its business not so long. However, the Conifer hotel has already received the certificate of excellence from the prominent travel site of Tripadvisor. One of the most popular features of this hotel is its terrace sit-down on a nice pavement of the Ly Dao Thanh Street. It is almost like a French or Italian café where people have nice coffee in the sunshine watching the road and the surrounding area. Many guests would vote for Conifer Hotel out of its prime location. It is at the heart of the chic and trendy street in Hanoi which is only 2 minutes walking from the charming Opera House and 5 minutes walking from the legendary Sword Lake. With the launch of a prime, luxury shopping center nearby- the Trang Tien Plaza, it does not take much effort for you to walk around from the hotel to savor the beauty of colonial buildings of ages adorned with beautiful lanterns. The location will help you to either dine fine or dine at the street. There are many fine dining restaurants around usually with fusion and traditional theme. It is notable that if you walk into the Trang Tien alley, you can find an excellent seafood shop with a chef who once served to Lady Gaga.
The Al Fresco Terrace at the hotel is quite a bliss as you can enjoy a wide variety of food from Western to Asian cuisine with fresh local ingredients. There are curries, spring rolls, steak and all for your palates.
The rooms inside Conifer hotel includes three types- Classic Room, Deluxe Room and Suites. The Classic room is of 20 to 25 m2 with queen beds available. The Deluxe Room is bigger in size with a contemporary touch on the interior. Every 21 Club Room boasts of its private balcony overlooking the commercial district of Hanoi. Each room is between 30 and 35 square meters with a king-size bed. You can enjoy a bit more of luxury by checking yourself into the Suite Room in which a lounge area and a working desk can help with your business trip. The management team offers the seasonal promotion to attract more visitors. There are some great-value packages. You can also incorporate the booking of your accommodation here with a trip to either Ha Long Bay or Sapa.