Where to stay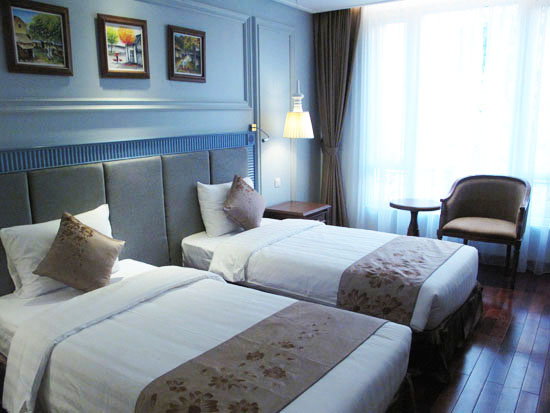 Hanoi Pearl Hotel is quite a gem near the famous lake of HoanKiem. It only takes you barely a minute to walk from the hotel to the lake bank. The hotel is a nice building block in a less busy street- BaoKhanh Street. From here you can walk to a sport bar to watch the latest game of Premier League and meet up with some football fans. The hotel is also in the walking distance with two beloved restaurants- La Salsa and Mediteraneo. The two restaurants are both in the Mediterranean styles. La Salsa is a wine and tapas restaurant with a Spanish twist while Mediteraneo verges more on the Italian side. There are also many other choices of local fine dining such as Wild Lotus and Green Tangerine in the area. The famous French cathedral of St. Joseph is only a couple minutes of walking too.
From BaoKhanh Street, you can walk down to Hang Ngang, Hang Dao Street for the night market at weekends. If you want to try the Vietnamese coffee blend, then go to 11 Hang Gai Street where many antiques and porcelains are on display. This is also the place you can have a bitter sip of Vietnam's black coffee or an egg coffee with creamy layer while looking over the lake beneath. This is quite a well-hidden spot of the area. Make sure that you see a silk shop with a tiny alley. Go into that dark alley even it looks a bit intimidating. There you can go up stair to an ancestor's altar and a coffee shop.
That is for the attraction spots that you can walk to from Hanoi Pearl Hotel. Back to the hotel, Hanoi Pearl Hotel has a sleek interior in the style of simple English with spacious rooms as compared to the Old Quarter's standard where real estate price never drops. There are 70 rooms in total for 12 floors. The hotel includes complimentary internet and fitness room. There is a bar, a restaurant and a business center within the hotel. There are three room types with various choice of views so eventually we have five sub-categories. They are Superior Room with either Enlarged Window or City View. Then there is the Spacious Deluxe with Church View. The upper class is Premier Executive with either Lake View or City View.