Where to stay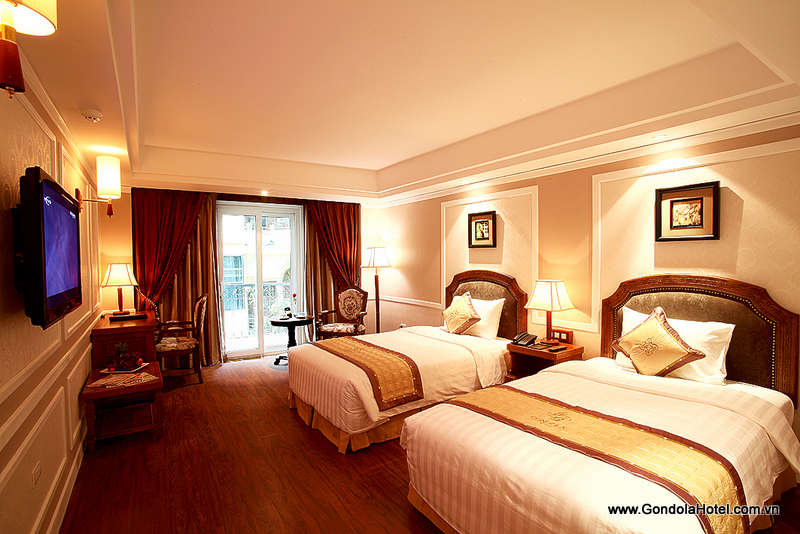 As picking an accommodation in the Old Quarter, some prefer a place on the quiet streets to throw themselves in peacefulness and tranquility; meanwhile, others are more prone to choose a busy street which caters for their engagement in Hanoi's liveliness and friendliness. Gondola Hotel, quietly lying on Hang Hanh Street (or Onion Street), is a truly favorite stop for several types of tourists flocking to the city.
Gondola Hotel is quietly located at 31 Hang Hanh Street which brings transporting advantage in every kind of way. Firstly, to arrive at Noi Bai International Airport, you need less than 40-minute drive, without caring much about congestion and any obstacles. Secondly, if you opt for a train, Le Duan train station is of great proximity within a few steps. Lastly, it now comes much easier to reach any widely seen attractions in the Old Quarter. It properly saves you a lot of time, money and effort as well.
Gondola Hotel is adequately facilitated in order that it may relax even the most discerning guests in the world. The structure is a beautiful combination of Italian and Hanoi Style that impresses visitors, particularly architectures and designers. More excellently, the staff is really nice and friendly, ready to provide information in the front desk throughout the day. If you have any problems with room service, you can immediately call helpers outside to sort it out. Other complementary services namely as laundry service, bicycle rental, airport transfer, concierge are included as well. It is possible for you to enjoy the special ambience in the hotel bar which gathers different stories from people around the world.
Walking down from the tenth floor, you may visit every single room out of 40 rooms in the hotel. Room types in Gondola Hotel are differentiating in views, meaning that their outlooks over the outside are not quite similar. You may choose a superior deluxe or twin room with lake view or city view; otherwise, you may invest in an executive room with city view or suite room with balcony. Above all, those rooms are elegantly and glamorously decorated and fully furnished to bring the best comfort to guests.
It is a truly pity if you miss the following places which are totally near the hotel:
-
Thang Long Water Puppet Theatre