Where to stay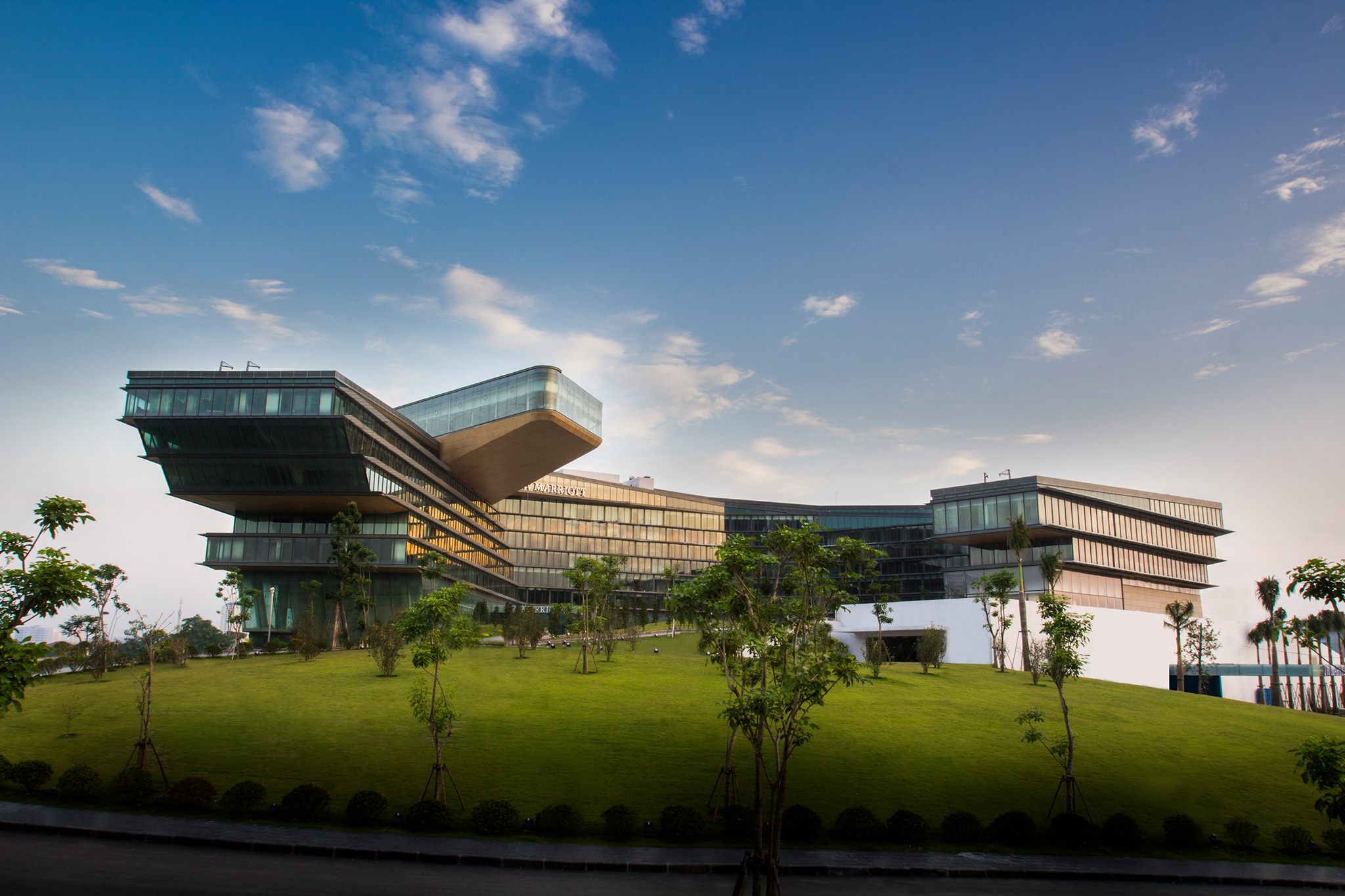 Thank to the tourism boom, Hanoi now has more and more choices for accommodation. If you are taking your family to the lively city of Hanoi, it is handy to have some good hotels name in sleeves. These below hotels have been chosen for their exceptional services and a mind for family-friendly details.The list is in a random order, no ranking is intended within this list.
1. JW Marriott Hotel Hanoi
Add: No 8 Do Duc Duc Road,Me Tri, Tu Liem District • Hanoi, Vietnam
A luxury choice for your family in Hanoi, JW Marriott Hotel chain has been often featured in the most family-friendly hotel chains of the international reviews. The branch in Hanoi is not an exception of being family friendly. Plus, it offers greater value for your pocket as compared to Marriott branches elsewhere. The hotel is located at a commercial area with many business venues. Hence, it is the best choice if you bring your kids along on a business trip. Marriott Hanoi has a massive playground for your kids to run around. There are about 300 rooms of 48m2 size and 52 suites. The ample suites would be great for your family. The hotel includes the baby-sitting service and a pool.
2. Anise Hotel Hanoi
Add: 22 Quan Thanh Street Ba Dinh Hanoi
Located near the famous French water tower of the Old Quarter, the Anise Hotel is a great choice if your family intends to discover the energetic life of the Hanoi Old Quarter. The hotel is in modern Asian style with cozy decoration. They offer both child care and baby sitting service. If you are on a rush during your stay, valet service is here to provide you comfort. A fully-equipped gym is a good spot for any exercise-loving family member to drop by.
3. Serenade Hotel Hanoi
Add: 58 Hang Dao Street Hoan Kiem Hanoi
At the heart of the Old Quarter, Serenade Hotel Hanoi is a hotel for fun-loving families as it is on the street of the weekend night market. Every weekend, there is an outdoor bazaar attracting the influx of people to buy local handicraft, affordable clothing and good food. Down the road is the Dong Xuan market which is a shopping spot that you can dig in good street food. Sometimes, they have traditional music show in front of the market. The yard in front of the Dong Xuan market is a de facto children playground where local kids play with illuminating toys flying around. The hotel has excellent service on offer. If your family health is of your great concern, the hotel provides the service of doctor on call as well. The most negative point is its busy location making you to plan in advance if you need to be somewhere on time during rush hours.
4. Fraser Suites Hanoi
Add: 51 Xuan Dieu Street Quang An Tay Ho District Hanoi
If you want to keep the hustle and bustle of the city at bay, Fraser Suites is the place for your family. Located in the oasis from noise by the West Lake, Fraser Suites caters the excellent lake view. One more great value is that the air here is less populated than the rest of the city as the lake keeps air refreshing. The building has everything to keep your family at ease. The facilities include children swimming pool, kitchen, spa and fitness. The most favorite part is a charming garden with a small path running through a standard clinics. From here, your family can take a walk around the beautiful lake and visit its ancient temples and pagodas. Even though the kitchen is included, you can take your rest by taking the kids to Al Fresco, a classic Italian restaurant- Da Paulo, a Vietnamese buffet- Sen Vietnam and etc. When it is time for you two couple, there are various bars, sport pubs and tea houseses within walking distance. The great thing is no traffic rush.
5. Hanoi Sky Hotel
Add: 27 Tong Duy Tan Street, Hoan Kiem District, Hoan Kiem District
The Hanoi Sky Hotel is conveniently situated at Tong Duy Tan street. It is actually more of an alley than a street. The alley itself is a huge plus for the hotel. Packed with various street food restaurants, you can sample here and there a little bit for seafood, stir-fried rice, noodles and all. The good restaurants are at number 1 and 7 of the street. If you worry about food safety, Puku cafe is right on the alley with an outdoor cafe and excellent burgers. Even when you want a drink at a popular bar among expat, Southgate bar is right there too. Meanwhile, the attraction spot of the Old Quarter is within walking distance. The hotel itself upholds standard service for your family's convenience.

Eateries and coffee around

Less traffic within the street