Where to stay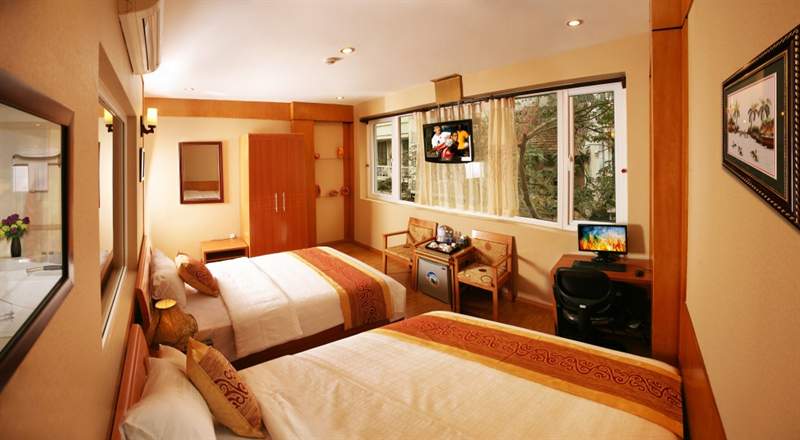 Among several guilds and streets in the Old town, most of them have been renowned for busy trading activities from the early stage as Hang Ngang, Hang Dao Street, Dong Xuan Street and so on. Meanwhile, the rest is less bustling since it suits for those favoring its peacefulness and tranquility.
Not so many people come up with any idea about Dong Thai street on the city map. Almost all know it basing on the location of Ma May Street. The little street covers a small space; as a result, it is hard to see any huge places along the street. Specially, for tourists, you have only one choice to stay called Pearl Suites Grand Hotel – the only accommodation in the area.
In fact, its unique brings Pearl Suites Grand Hotel a list of advantages and hence, it is advised that the hotel should try best as they can to serve diversified types of customers. Regarding to its location, the hotel is presently positioned at 7 Dong Thai Street. As mentioned, the first and foremost thing to consider is totally relaxing atmosphere that you can feel. Besides, the hotel brings convenient access to crucial points within the city. From Noi Bai international airport, it takes about 45-minute drive to finish their route. From Le Duan Train Station, you are now so close to the hotel entrance.
Ranked as a three-star hotel, Pearl Suites Grand offers adequate facilities and amenities with great hope to meet most of customers' demands. Room service, front desk service, bicycle rental, shuttle service and other convenience are open all the time so that any problem you face may be tackled in a very short time. Also, it is rare that a three-star can provide you the chance to enjoy sauna which plays the role of refreshing pretty well.
The only drawback of the place is its very limited number of rooms (18 rooms). However, these 18 rooms are well designed and furnished which actually gives much more customer satisfaction. They are divided into 4 types: superior, deluxe, family deluxe and suite balcony.
It turns out to be an unforgettable experience as wandering around the city and stop by some popular attractions so close to the hotel.