Where to stay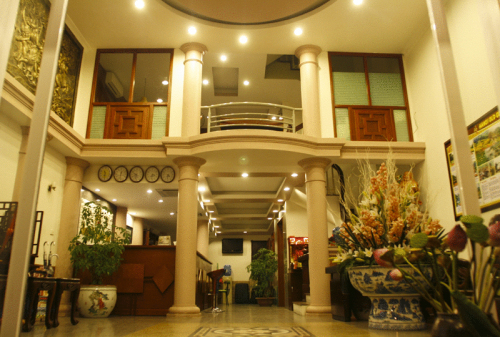 May De Ville Hotel is located in Gia Ngu Street only some minutes away from the night market of Hang Ngang, Hang Dao Street. Thus, it is also convenient to walk to the Old Quarter from May De Ville. The hotel did receive some bad review during the time it went through renovation. However, the situation has improved back to its perfect stage. The room rate is low as compared to the quality, the service and the amenities that you may receive. The street of the hotel is always crowded with shopping activities. There, you can spot some interesting food vendors who offer delicious treats. Gia Ngu Street is also a location where many lingerie shops cluster. Hence, you can find some reasonable shopping in the area. You can also walk 200 meters to the trendy restaurant of Green Tangerine. This is a lovely restaurant housed in a beautiful colonial building. They offer French cuisine with Vietnamese flavor. It is a very interesting combination as the owners try to reach both authenticity and innovation. Green Tangerine has been featured in international travel pages and the New York Times, so it is definitely worth a try. Other nearby attraction is Thang Long Water Puppet Theatre. Water Puppet is a distinctive performance art in which puppets are cast into play or stories within a small indoor pond. The show is a must-watch at the center of Hanoi.
The room rates are great. You spend little but stay in spacious rooms. There are five room classes in the hotel. They are May De Ville Classic, May De Ville Premium, Executive Suites, Honeymoon Suite and May De Ville Family Suite. Every room class except the Family Suite allows up to 2 people to stay in each room.
The hotel includes a business center and executive floor so it is a reasonable choice for your conference. To help its guests relax, the hotel has set up a spa, a salon and a fitness center. For the Honey Moon Suites, guests can have access to lovely balconies with the city view. If you prefer not to walk, the hotel does have a bike rental service. However, it is wiser for those of you who have not been to Vietnam before, to walk in the pavement first before taking part in the crazy traffic. May De Ville has a diverse selection of tour. You can choose the more popular place such as Ha Long and Sapa. But were it spring, then try the Perfume Pagoda. It is lush during spring.