Where to stay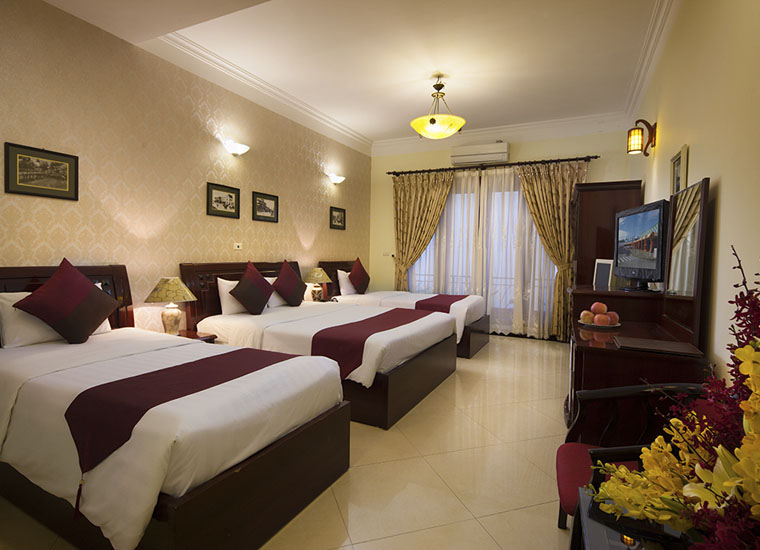 Without much effort, the Paradise Hotel easily claims the title of one the finest three-star hotels in the area of Old Quarter. To mention its excellent service later, the obvious plus for any travellers who stay at the Paradise Hotel is that they are in the walking distance from the charming, old gems of the Old Quarter from the Hoan Kiem Lake, Temple of Literature, One-Pillar Pagoda, The Southern City Gate, Dong Xuan market to the freshly-packed Night Market.
The hotel has four room types- the Deluxe Room, the Paradise Suite Room, the Family Suite Room and the Paradise VIP Room. The Deluxe Room has a full-length window, an ample king bed and a convenient working desk. The Paradise Suite Room is slightly bigger with two beds in king-sire. They also add a sofa for your convenience. The Family Suite Room has unofficially claimed the best title for a family of four. The room has a king-size bed and two twin beds.
Thinking of a budget and your teenagers who can not put up with each other. There you go, this room type fits right in. They also have a satellite TV and a comfortable en-suite bathroom. Book early though as they only have 5 rooms of this kind. The last kind is the Paradise VIP room. It brings in a more upscale experience with a paranomic view over the hustling city outside. They have a living room in the same location with your bed room. There is a good hi-fi system if you want some music with good resonation. There is a restroom at the living room while a spacious bathroom with a bath tub gives you some real rest.
Another reason for you to choose the Paradise Hotel is its variety of package tours. The Hanoi Outskirt tour is good for anyone who do not favor long-distance tours as it brings you the interesting trade villages at the outskirt of Hanoi. You can go shop for silk and pottery from the famous silk village of Van Phuc and the pottery village of Bat Trang. This tour also gets you on a river cruise through lush green mountains in Ninh Binh province. Of course this does not exclude a junk cruise into the legendary Ha Long Bay. If you have more time and energy in hand. Go for the Northern Exposure tour. This tour takes a little bit down south to beautiful river of Ninh Binh again. Then you venture into the crystal blue of Ha Long Bay and the verdant greenery of mountainous Sapa.