Where to stay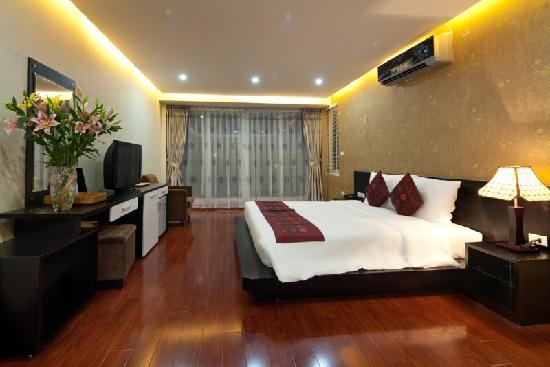 If you ever had chance to be known about Rising Dragon Hotel Group, Rising Dragon Cathedral is definitely a right choice for your stay in Hanoi.
At the ideal location at 38 Au Trieu Street, the hotel is seducing tourists from different corners, especially who love quietness and prefer a retreat from buzzing Hanoi. Besides, it offers you an incredible access to big places in the city. Starting from the hotel, you may wait for 45 minutes on a taxi to reach your destination – Noi Bai international airport. If you opt for a train previously, you need about 7 minutes to move from Le Duan train station.
To be listed as a three-star hotel, Rising Dragon Cathedral brings services compatible with customers' expectation. The address includes fundamental services as room service, concierge, babysitting, shuttle service or airport transfer. It is interesting that pets are allowed in the hotel; as a result, guests, especially animal lovers will feel 100% pleased with this policy. In addition, you may think of sampling Vietnamese and Western dishes in the restaurant which features by warmth and friendliness. Also to be found there are safety deposit boxes aiming to protect your own property in case you stay longer at the hotel.
Last but not least, staff attitude is one of keys key contributors to the hotel's attractiveness. Everyone is kind and willing ready to give you a favor at any cases.
In terms of room types, four types include family room, honeymoon room, double room with balcony and twin room. As the first and second's facility may have one double bed or two single beds, the third only has a double bed and the last one has two single. All of 21 rooms are well equipped with air conditioning, cable TV, refrigerator, hair dryer, tea maker, and other conveniences. Free wi-fi is fully delivered to keep computers updated with information.
Since the hotel is pretty close to popular spots in the Old Quarter, you can take a short tour around to visit all of the following recommendations.
-
Thang Long Water puppet theatre