Hanoi Streets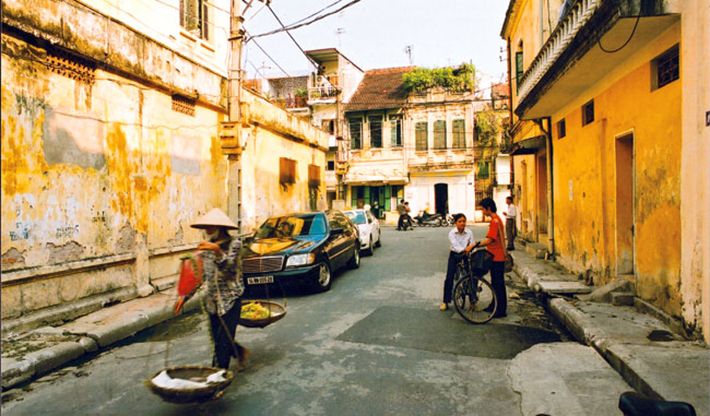 Ngo Tram is a 228-meter street from Duong ThanhStreet to Phung Hung Street belonging to Cua Dong ward, HoanKiem District, Hanoi City. This originally was the estate of Yen Trung Ha commune, Tien Nghiem ward, Tho Xuong District which was merged into the city long time ago.
The road was actually a new road opened behind the original Ngo Tram Street. Later, the older road got the new name of Ha Trung. Thus, the new road acquired the name of Ngo Tram. In the French colony, the road was named as Rue Bourret. From 1945-after the communist revolution, the road gained back its Vietnamese name.
At the early 20th century, Ngo Tram was nothing near a trade street. Instead, the houses were of residency mostly. The whole street was a quite residential area with nice houses where French, Chinese and Japanese immigrants opened luxurious hotels at the street corners. Besides, the street had many spacious rental houses to open clinics and private hospitals.
As a result, the street's residents were usually wealthy businessmen and academicians. As a result, the street was the venue breeding civil and cultural movements in the 1930s. The example was Freemasonry Tonkin branch. There was also the Front of Democracy in Indochina group between 1936 and 1939. Some political movement sought the houses here for their news headquarters such Tin Tuc, Ban Dan, and Ha Thanh.
Ngo Tram nowadays has 10 houses on the even number side of the street. The end of the street is the Headquarter of the Protestant Church in the Northern Vietnam. At the middle is the Thang Long primary school which was originally the private school of Thang Long. The odd number side of the street has 20 houses. The front end is acclaimed street food vendors of noodles and hot pots. The other end is electronic appliance stores.
Ngo Tram Street has a famous vendor of bun cha. This is the traditional BBQ pork with vermicelli. You can not go to the capital without eating bun cha. It is a must-to-do.