Hanoi Streets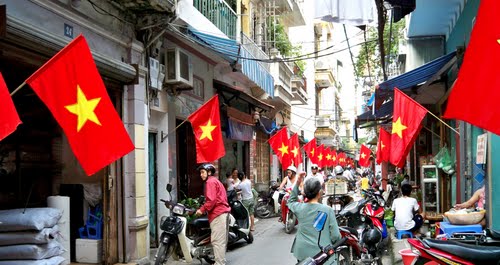 Yen Thai Alley is 140m long from Hang Manh Street to Duong Thanh Street, crossing the empty space in front of Hang Da Street. This originally was the land of Yen Thai hamlet, Tien Tuc ward, ThoXuong District.
Well half a century under the French colonization, while it's neighboring streets went through renovation for larger roads, this very alley stayed so narrow that it could only fit a rickshaw at a time. There was no pavement or sewage. Houses had been humble and worse.
Its residents thus were not well-off. They were mostly craftsmen in the trade of mat, carpentry, building and pulling rickshaws. They were also small merchants in the market of Hang Da. The poor population here includes the street vendors from China who sold snack along the capital's roads.
Until the 1930s and 1940s when the urban lands rocketed, some more wealthy people built rental houses in this alley. However, the more developed houses were only a few.
The number 2A of Yen Thai Alley is the communal temple for embroidery craftsmen where honors the forefathers of the trade. It once did sell embroidery work. As it was the case in the past, during the farmer markets, the craftsmen gathered here to sell their embroidery work.
At the intersection between Tam Thuong and Yen Thai vally was the Yen Thai shrine honoring the Mother Queen of Y Lan- the wife of King Ly Thanh Tong. Her real name was Le Thi Yen. She was once a farm girl who had made it to the court. She showed her political savvy by being the Regent Queen for twice.
Her shrine was constructed to accommodate her figure at the center. While, to the left is for Buddha and the right is for the Holy Mother.