Hanoi Streets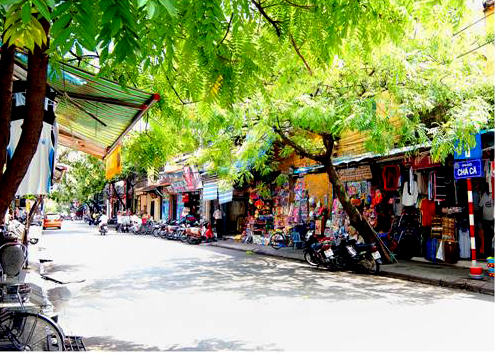 Among the most popular streets in the Old Quarter, Cha Ca Street is always on top list thanks its reputation for the world fish dish. For that reason, it comes as no surprise that the place becomes one of 1000 places you must go before you die in the same name book.
Originally, the street used to be a tiny alley and later further expanded in a wider street called Paint Street, reasoning that locals may go there for paint purchasing. Also at that time, a Doan family gained great fame in making a special kind of grilled dish and then after the August Revolution, the street was named after the exact name of that dish: Cha Ca.
Cha Ca Street is merely 180 –meter long which plays as a convenient link between Ha Luoc Street and Lan Ong Street. Apparently, it is hard to find any trading or shops related to paint at present. To be added, you can see the unique Cha Ca restaurant at 14th Cha Ca Street as some other eateries were trying to offer this dish but failed. That special characteristic is hardly found in any page.
There are some places on Cha Ca that may interest you a lot during your stay in the city.
It is the only restaurant in Hanoi that gives you the finest flavor of Cha Ca (grilled fish pies). Quietly located at 14th, the little restaurant has a long-standing tradition serving this dish and hence, it seduces several locals and tourists to come and sample this Vietnamese superb dish.
For those favoring lively atmosphere, Nineteen Bar may be the right choice. Being located at 19th Cha Ca Street, Nineteen is one of the most attractive bars in the locality thanks to its modernity, high-quality sound system and especially a well-known pretty DJ.
-
Golden Land Restaurant:
Conveniently standing next to Cha Ca La Vong, Golden Land Restaurant brings another option for your meal. Although Cha Ca is not a real strength, the eatery still receives much attention with its variety menu.