Hanoi Streets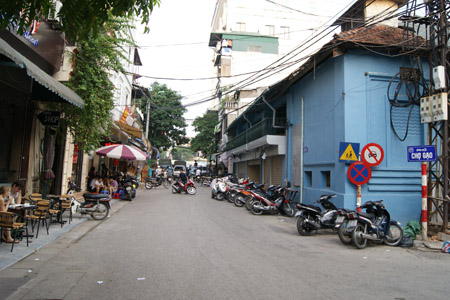 To be found in the Old Quarter are streets and guilds whose name is closely related to its typical feature such as location, names of goods sold or common addresses. For instance, Dong Xuan Street is exactly where the biggest and busiest market in the city belongs to. Similarly, you can find your favorite accessories or jewelries along Hang Bac or Silver Street. Thanks to this special way in naming the streets, it turns out to be more comfortable for you to shopping around.
Wandering till the end of Tran Nhat Duat Street brings you to the beginning of Cho Gao Street. In Vietnamese, Chợ is the place where sellers and buyers conduct various trading activities while Gạo properly defines the most well-known grain ingredient in Vietnamese cuisine. Under French colonial rule, they opened a market specializing in rice retailing, which named the street as Cho Gao.
At present, Cho Gao Street is still widely used for those businesses although it is trying to adapt to new division in the area. Recently, a new bank has recently constructed on Tran Nhat Duat's side while on the other side of the street is mostly residential area. To talk about people, most of them choose to pick some jobs like loading or transporting rice bags for big shops to manage some coins for lives that heavily rely on volume of daily trading. Another small of Chinese-origin workers live in other tiny alleys along the street.
On Cau Go Street, you may catch very commonly seen images of Vietnamese outdoor café. Usually, the owner is medium-aged women, sometimes men while loyal customers are workers and locals. They sit together to satisfy intense thirst during summer days and chit-chat about a pile of topics surrounding their day-to-day life.
In a word, Cho Gao Street hardly can offer you the chance to visit top-notch restaurants or luxurious shopping mall but is still worth a visit as you can view Vietnamese through trading mirror. Even more excitingly, you may absolutely think of sitting on stools and taste some famous street food – a unique attraction brought by the capital city.