Where to stay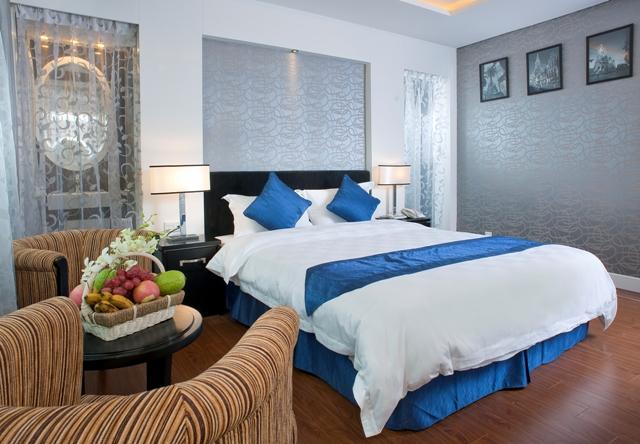 Church Boutique Hotels is a constellation of three stellar boutique hotels in the middle of Old Quarter District. Every hotel in the group is either freshly launched or newly renovated into a trendy, contemporary design. Their names are Church Boutique Hang Gai, Church Boutique Hang Ca, and Church Boutique NhaTho. The three hotels have its own distinctive design and share the same state-of-the-art quality of service. The group in under management of the HK management- a rising star in the hospitability industry of the region. As a recognizable boutique chain with good reputation, Church Boutique is a reliable destination for both Vietnamese and international celebrities.
Church Boutique Hang Gai is located at the hip street of Hang Gai where many silk mongers cluster together creating an air of nostalgia and luxury. The street should have been named the "happening" street as everything is going on continuously in the street. You walk out and you know about the rush of the capital. Cars, motorbikes and people. Do not worry about the noise though as the hotel is sound-proof to make sure that you can sleep well at night and even when you stay in after a long night. The morning sound would never come to you unless you want to.
Church Boutique Hang Ca is more for ones who prefer the silence and tranquility. The hotel nestles in a less crowded street where trendy fashion boutique resides. This hotel is truly a petite beauty with only 25 rooms. The hotel offers 17 guestrooms. In which 13 are Classic Room while 4 are Deluxe Room. It almost feels like home with just more roommates that you only meet at the hotel lobby. The place is near the Dong Xuan market and the night market.
Church Boutique NhaTho is located near the famous St. Joseph Cathedral. It should be as the hotel was originally a Presbytery House and actually was one of the first in edification service to the Cathedral back in 19th century. The house was later converted to a hotel in 2002 then renovated later in a multi-dollar project to make it the red spot in the boutique accommodation map.
What to love more about the hotel management is their corporate responsibility. They have launched various green initiatives. Their philosophy is to minimize the waste from the hotel activities as well as use eco-friendly products as much as they can.