What to eat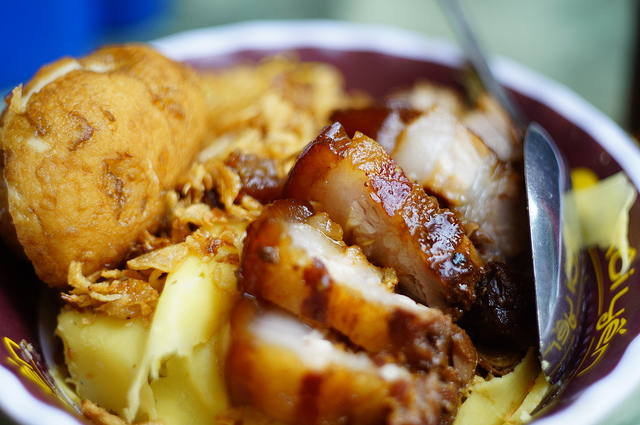 The first impression to most of the visitors to Hanoi must be the restless chaos of the city. The city never sleeps. So do its food vendors. The trip to Hanoi shall not exclude a savage night out to its night life and later a chill-out at street food watching the city calms down in the darkness.
So here is an abridged guideline for hungry stomachs of wandering night owls.
The Red Light
Stay away from Tong Duy Tan Street's vendors. It is full of rip-off and the food is down the hill. I know the advice is contradictory to many articles praising the charm of this street's nightlife and food. It was nice a couple of years ago. However, my latest experience with the street ended up terribly with MSG-flooded food. My friends ordered a small portion. They purposefully gave out a bigger portion for an over-priced bill. The waiters were strong-built enough that we did not dare to complain about anything. The worst was the pestering kids asking for money who wandered in the street and even got in the restaurants (they probably are in the same boat). We were simply terrified and petrified.
The only gems in TongDuy Tan Street are Puku cafe and Southgate Lounge. Puku is popular among expats and backpackers alike. They have wonderful beef burgers. Meanwhile, Southgate is more on the hi-end side. It is good for a weekend night out
The Green Light
Here are some nice places with good food
Beef Pho
Around the corner of Ha Trung Street and Phung Hung Street is a beloved beef Pho vendor. They have it all from the tenderloin, flank to brisket. Yummy! Hearty.
Another address is the intersection between Hang Duong and Hang Chieu Street. The lady only sells her food from 4 a.m to 6 a.m.
Beef Pho with wine sauce
27 Hang Ngang Street
An improvisation of Pho from the French influence, this Pho is the best night food for a chilly night. The broth rich in spice warms your belly and your heart simultaneously.
Sticky Rice
The symphony between sticky rice and its various toppings from pork shred, stew meat to fried eggs is a good rhythm to your bellies. The place on 54 Nguyen HuuHuan Street is always packed with hungry souls. It opens from 5 a.m to 11 p.m
You can also find sticky rice at night in De La Thanh Street near GiangVo intersection. This is far away from the Old Quarter though.