Hanoi Streets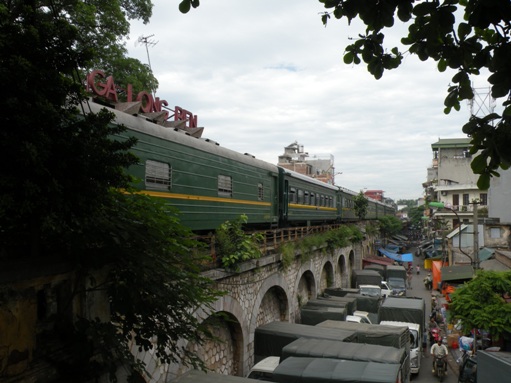 Gam Cau in Vietnamese means the position under the bridge. Indeed, if you are familiar with Long Bien Bridge, Gam Cau Street does not sound so peculiar.
As referred right from its name, Gam Cau Street covers a very limited area of 200m, much more like two narrow paths along the bridge. Undergoing many changes in names and divisions, the street presently runs from Hang Giay Street to Phung Hung Street. Since the street offers no sidewalk for pedestrians, you may visualize a terrible disaster; however, it turns out to be easier for you to move in a street with very few vehicles.
Gam Cau Street is known as shelter for the economically disadvantaged in the city. Most of them originally come from rural areas and expect to earn a living for the whole family. Unluckily, they can not afford to buy or rent a convenient apartment so that they resort to live in modest houses. However, as night comes, the place turns busier and crowded with little street food restaurants on both sides.
Although you may not find this special address on Hanoi tourism map, it is truly a worth-to-visit place seducing a high number of locals and global tourists. The first reason for this trend is that it gives you the chance to taste grilled hotpot- one of the finest street food in Hanoi. In winter, you may think of centering a hotpotwith your family and friends. Iced tea is served with this dish to balance the flavors. Also, it is a good idea to give a shot to Vietnamese Pho in this street. Last but not least, the train whistle sometimes brings everyone back in the city some decades ago.
There are some highlighted spots that you should always keep in mind as going around Gam Cau Street. Normally, these little outdoor restaurants do not have a proper name so that it is advisable that you ask for help from the residents there.
-
Phở Gầm Cầu (Phở Hà méo): Ha is the owner's namewhile "meo" is her nickname due to her hot-temper.
-
Lòng nướng Gầm Cầu ("Gam Caugrilled intestine"): you can stop at any restaurant to sample this very special food.
-
Nầm bò nướng Gầm Cầu (grill beef and udders): it may sound really odd at the first time but trying once, you are about to become a big fan!