Hanoi Streets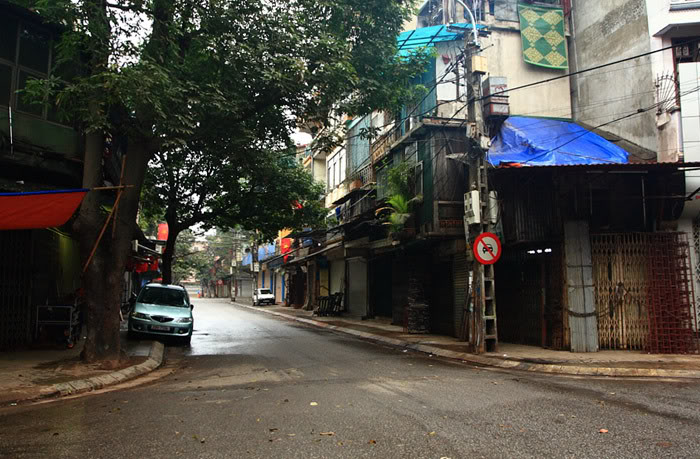 From the very early stages of Vietnamese history, agriculture has been attached to great importance in national economy and thus the ancient capital was not an exception. The extreme focus on agriculture arose the demand for farming tools, pushing their production and business into strong growth. Lo Ren Street was the common place in town that the local came for that purpose.
Covering the distance between Thuoc Bac Street to Hang Ga Street, Lo Ren was formerly known as Hang Bua mainly selling ploughs – popularly seen in paddy fields during the rice crop. Later, ploughs were gradually replaced with many other types of tools corresponding to new tastes in house construction. This led to a name change into "Lo Ren Street" which has been still used today.
As mentioned, Lo Ren Street was the shelter for many families whose livings highly relied on forging an influx of farming tools. Most of houses were equally divided into two parts including the back for family daily activities and the front for work. A customer may go straight to opt for their necessity; otherwise, you may bring your expected design and ask them to do. Now, since the overall falling demand there remains only some little shops scattered along the street since most choose to pursue other better-gain career.
A short walk on Lo Ren Street may send you to usual local life, make you further understand a typical day of Vietnam blue-collar workers and most excitingly, bring you into cozy and tranquil atmosphere that can not be found in any busy streets.
The house at 1 Lo Ren Street is the holy place where the locals make offerings the ancestors who set firm foundation for forging. The craft village no longer exists at present; however, it attracts tourists with intensive passion in viewing the ancient city from multi aspects.
Thanks to its convenient location in the Old Quarter, you may take a few steps to hit Hang Ga Street and fill your name in elegant hotels, get tickets to interesting spots and relax your hard day with some tasty street food. Furthermore, due to volatile climate in Hanoi, Thuoc Bac is pretty suited for picking medicines generally supporting your stay there.