Hanoi Streets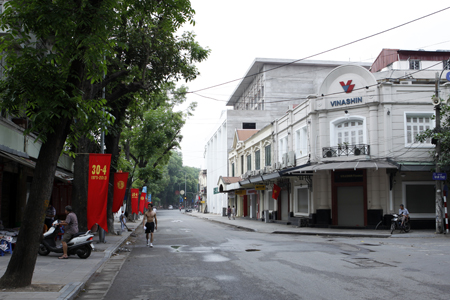 It is a truly long story to talk about Hang Trong Street - one of the oldest streets in the Old Quarter. In terms of location, the land is much close to Hang Hom Street and Ly Thai To Street so that just takes a few minutes to move towards the center of the old Quarter. With a merely short span of a half of one kilometer, it is winning combination of very distinctive features in Hanoians' history.
Hundreds years ago, Hang Trong Street was called Hang Theu which depicted the famous local embroidery throughout the country. Also, some villages in the region gained great reputation for making drums, umbrellas and especially paintings much more outstanding than others. Presently, rapid social changes actually lead to non-existence of few traditional craft villages; however, Hang Trong Street still keeps luring several domestic and international tourists to come.
A visit to this historic place can not completed without stopping by painting workshops along the street. Original Hang Trong paintings used to be commonly seen in Vietnamese houses during Tet Holiday which symbolizes locals' creativeness and Vietnam's aesthetic values. Additionally, to distinguish with Dong Ho paintings, people referred to printing techniques used by Hang Trong makers. Nowadays, as this tradition has gradually faded year by year, only a small part is being displayed on Hang Trong Street and the remaining is kept under preservation inside art museums or galleries. Besides, you may enjoy other genres such as lacquer paintings, Quat Dong embroidered paintings and so forth.
If you are further interested in Vietnamese religious aspect, Dong Huong Commune House and Nam Huong Pagoda should not be missed out. These relics play an important role in one's spiritual life. From the early days, locals usually come here to worship and follow other rituals on the very first day and the fifteenth day in lunar months throughout the year.
All things considered, whether you are an artist or not, Hang Trong Street is always a worth-to-visit during your stay in the capital of Vietnam.