Hanoi Streets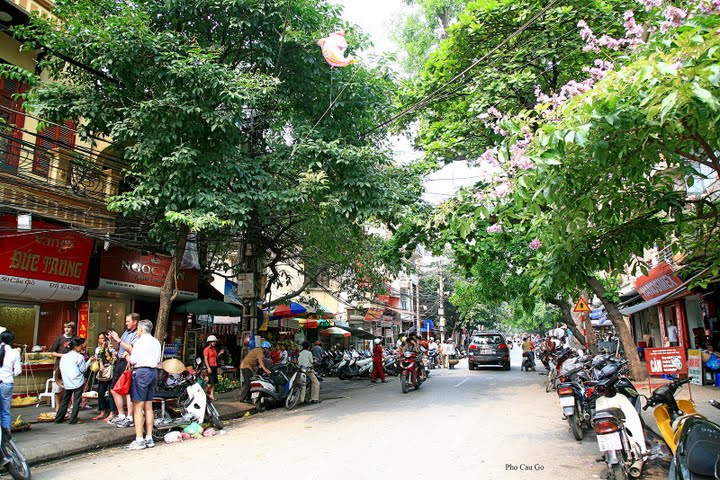 Among several streets and guilds in the Old Quarter, Cau Go Street has an extremely convenient position as linking Hang Gai and Nguyen Huu Huan Street and crossing main streets in the ancient area as well. It name originally came from a wooden bridge between Hang Dao Lake and Hoan Kiem Lake in the past and underwent a slight change into Rue du Pont en bois under the French colonial rule.
Beside highly appreciate its crucial role within 36 old districts, the local remember the street as a former residential area for students. In the old times, it was a collection of small and low-priced eateries for students from different regions in the country studying in Hanoi. Later on, it became an intermediary to reach other common places in the Old Quarter and also a big gathering venue for shops selling paints and oils. At present, apart from those typical goods, you can purchase most things that you need in shops successively standing along the street, particularly shoes, sleepwear and flowers.
To be found in the middle of the street is a real paradise for big fans of street food. Bun Cha and Bun Thang are the two most desirable dishes. You may opt for a seat at 43rd Cau Go to taste a full portion of Bun Cha or another restaurant at 32nd to offer a bowl of Bun Thang. You will be exceedingly excited to know that the quality is even possibly beyond your expectation before coming.
If you are seeking for accommodation, a range of two-star hotels may meet your needs namely as Democracy Hotel Hanoi at 52, Hanoi A1 Hotel at 1A, Royal Hotel at 90 and so on. They all really suits for those who can not afford a slot within a high-ranked place but wish to stay in a basically equipped room. Pretty close to Hoan Kiem Lake gives them another strong point as guests find it super easy to move around.
For purchasing miscellaneous items, Hapro Mart at 65 Cau Go Street is totally helpful. This type of minimart offers goods of high quality charged at reasonable price so that releases customers from bring some of low quality home.