Where to stay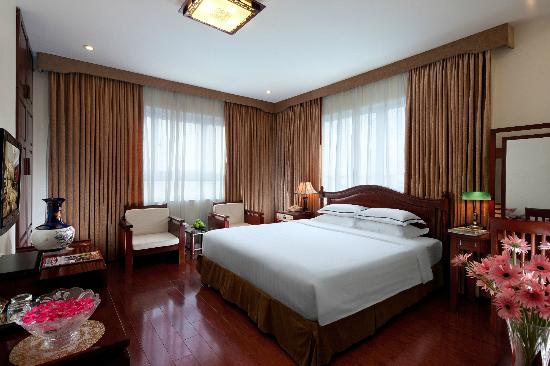 The award-winning hotel of Hanoi Imperial received the award from the site of Expedia and Tripadvisor consecutively in the year of 2012 and 2013. Its spa alone is worth your stay here. Their service focus around the massage therapy for your worn-out body and foot. This is essentially good for travellers who go far and hard. They offer foot service, body service together with manicure service. Especially, you get 40% off as you stay in the hotel. If you choose to stay more than 3 nights at Hanoi Imperial, the airport transport pickup will be free. Any love birds or honeymooners can request the special room decoration without paying extra fee. If you stay during your birthday, gift it is for you. The guests who stay at the Imperial Room receive daily newspaper, breakfast served at room per request and complimentary body massage for 60 minutes.
The hotel is also kid-friendly as kids under age can stay with their parents and enjoy breakfast buffet without any additional charges. If you want the prime of privacy and details, it is good to book for an exclusive private concierge service in which the hotel would provide you with a customized and intimate service.
It also brings you extra convenience to book your hotel room together with a cruise to the famous Ha Long Bay. The Hanoi Imperial Hotel has the partnership with some of the most prominent cruise agencies in the water of Ha Long Bay. You can opt for a 3 day-2 night tour to the Bay with Marguerite Garden Cruise. If you have a little time than that, it is nice to book the 2 days-1 night tour with the Paloma Cruise. There is also Alova Cruise, Vspirit Cruise, Halong Emotion Cruise, Bhaya Cruise for your option. You can discuss further with the reception for your tour option after you arrive. The hotel also offer two package tours to Sapa- the beloved hill resort area. There is a trek tour customized for anyone who want just enough a mount of exercise during their trip. If you are more into the cultural aspect of the tour, then the Sapa colorful market is there for you. There is also a homestay tour in which you can stay with the tribes to get to know more about their authentic life.