Where to stay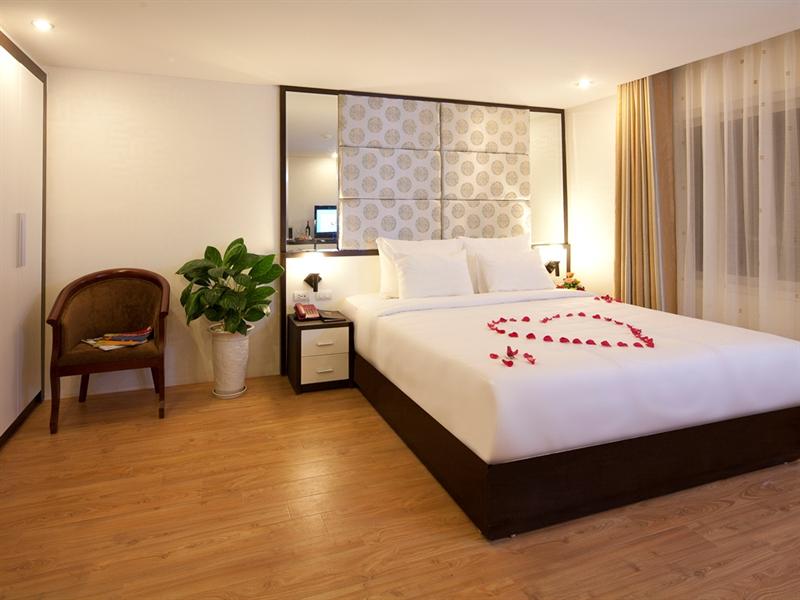 Belonging to Rising Dragon Group, Rising Dragon Villa Hotel's popularity is recognized by other hotels of the same range. If you are wishing to enjoy a breathtaking outlook over the city right in your room, the hotel is exactly a place what can not be missed out during the trip.
Quietly located at number 43A Bat Su Street, the place, at the first time, impresses visitors a lot regarding to great accessibility to various common gathering places around the city. It is a truly unforgettable trip to roam around the bustling part as Hang Dao Street, Hang Ngang Street, Independence Museum and so on. The hotel becomes even more attractive since its proximity to Dong Xuan market – one of the most famous markets in town.
It is noticeable that almost every guest is totally satisfied with services and staff in Rising Dragon Villa Hotel. Referring to hotel facilities, it has seen an influx of things supporting your short stay in a very nice way. Apparently, you may be freed from worrying about basic services namely as laundry, room service, airport transfer and shuttle service. In addition, your stay may be more relaxing thanks to a big collection of assistance from the hotel. In case your family go together, it is usual to make use of family room which gives more space to play and recreate for all members. Meanwhile, executive floor is mostly suited for businessmen to organize small meetings inside the hotel. As mentioned, caring staff significant contributes to customers' preference. They are always willing to provide guests with information about accommodation as well as tours and other related services.
A variety of room types highlights a strong point for the hotel. There are totally thirty rooms but each of them is absolutely fantastic. Depending on your own purpose and number of people you bring along, you can opt for a superior, a deluxe city view, a queen suite, a family suite and connecting room.
After a short rest in the hotel, it is time for you to start the city exploration by uncovering the most desirable spots nearby the hotel.