What to eat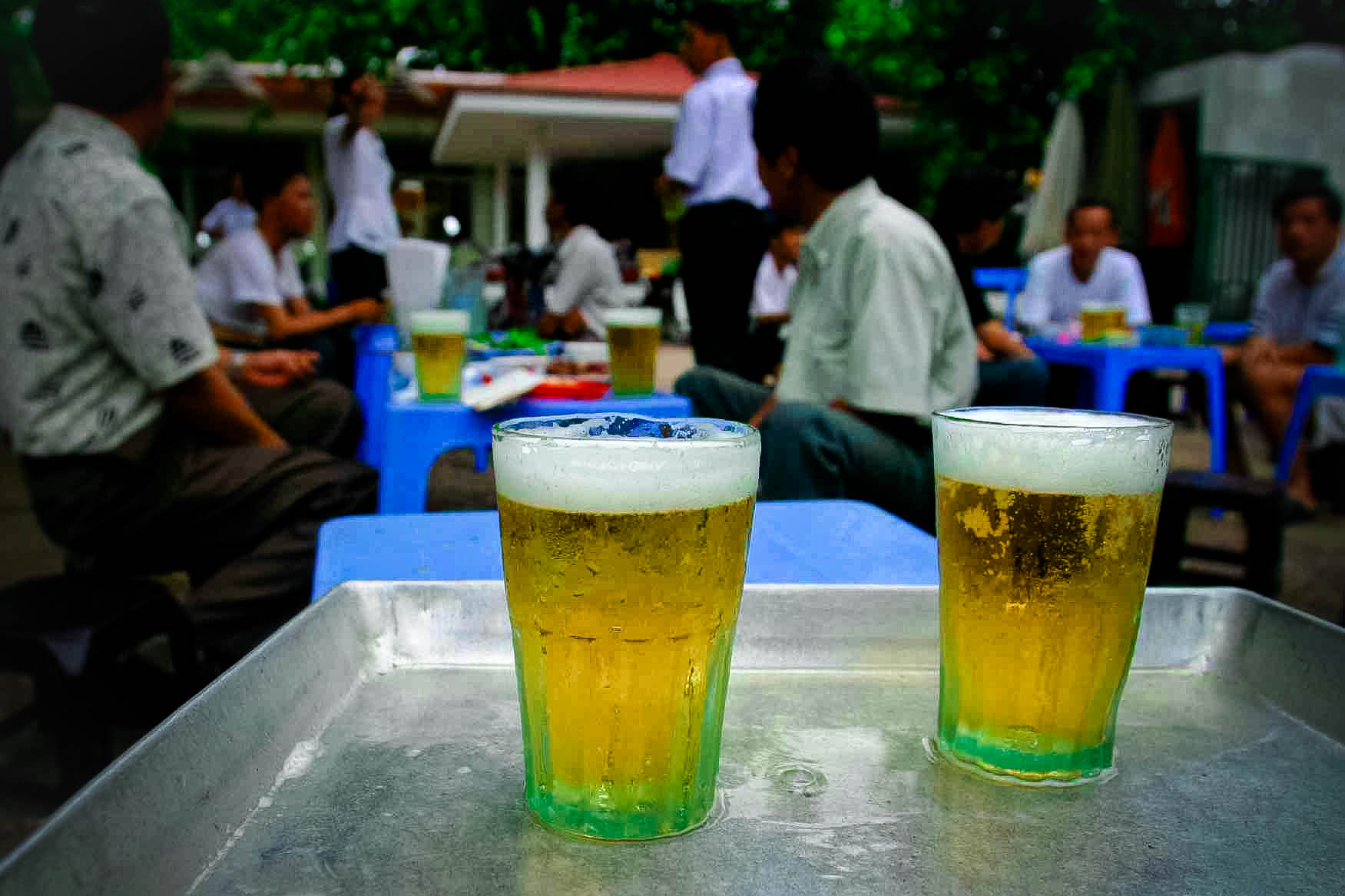 Unsurprisingly, Vietnam continuous holds the rank of the top beer consumer in South East Asia. The culture is very much about getting tipsy and socializing with your friends. Bia hoi is the Vietnamese wordd for the fresh draft beer that is brewed daily then delivered to street retailers everyday in giant plastic jugs.
The beer batches are low in alcohol rate which is roughly 3%. The beer is not of fine quality however is incredibly cheap and a good way for hanging out with locals.
It is a serious offense for visiting Hanoi without joining its Bia Hoi scene. It is like going to Rome without visiting its monumental Coliseums. The Hanoi Bia Hoi is actually quite tasteless in comparison with other beer. But the whole experience of drinking them is a package of joy. In the Old Quarter, the common scene is backpackers and local youngster all around pavements sipping on their beer, chatting and laughing with their company. It brings such an outlandish view for ones to sit down on tiny stools on the street pavements. The view from a Bia Hoi corner brings you closer to zoom in the everyday life of Hanoians.
Here are some Bia Hoi corners that you can drop by either you are on a quick tour through the town or are making new friends while settling down.
Bia Hoi Ta Hien
Add: Ta Hien Street in the corner with Luong Ngoc Quyen
Needless to say, this so far has been the most famous among backpackers thus bearing the unofficial name- the International Crossroad. Every night, the streets are packed. The street vendors thrush around at the lightning speed delivering order of fresh draft beer and snacks. It becomes almost a ritual that ones visiting the Old Quarter should go out to this Ta Hien section. The merry of making new friends while watching the hustle and bustle of the local life is rather unforgettable.
Add: 18B Hang Cot Street, HoanKiem
If you put an emphasis on the food going with beer, this is the place to go. Its patrons keep coming back for more of its goodies. The food reflects the eating and drinking habit of Vietnamese. Black pepper beef, deep-fried corn and banana flower salad are always on the wanted list. The staff is very much attentive and remember ordering habits of frequent patrons.
BiaHơiLanChín
Add: 14 TăngBạtHổ, HaiBàTrưng
A more upscale choice for those of you who favor a clean environment, Bia Hoi Lan Chin requires a little a bit of navigation further out of the Old Quarter. People whisper into others' ears about this eatery's famous hot pot. You can order the tender Oz beef instead of the chewy grass-fed local beef. Bon Apetit!