Hanoi Streets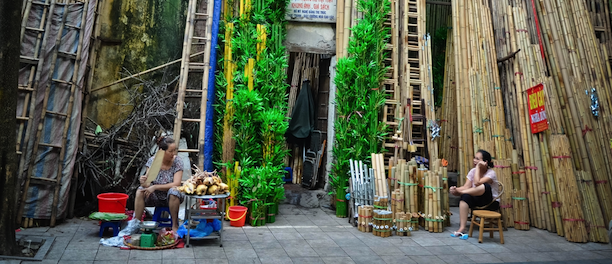 As time passes by, it has seen a lot of changes in 36 old districts and guilds in Hanoi's history. Some still keep the tradition of making certain generational products such as Hang Duong Street (selling sweets), Thuoc Bac Street (selling medicines) or Hang Bac Street (selling jewelleries). However, due to a variety of external factors, many do not leave any relics related to its past. Hang Vai Street is a typical example.
From the early stage of the ancient town, Hang Vai Street was once a busy center for trading different kinds of textiles, especially dyed textiles. The 240m street is the link between Thuoc Bac Street and Phung Hung Street. During the French colonial, under the name of Rue de Etoffes, the place was a populous gathering that buyers and sellers from different adjacent to Hanoi came to exchange textiles. Later, everything changed a lot.
Entering the street these days, it is impossible to find out any textiles shops. The disappearance of textiles selling and buying has been replaced with bamboo trading. A big collection of products from bamboos created by skilled craftsmen are on display along the street. You can arrive there to find materials for construction, making interior parts or even daily usages only. The spectacular images of bamboos ranges along the street are so attractive that many photographers or directors send those sights on the screen.
Besides, there are some tiny street restaurants open on Hang Vai Street. In the summer, stopping by a drink stall to get a cup of iced sugar cane juice is truly a wonderful idea to refresh your mind.
On the way to explore the street, common places noted down may be helpful for your short stay in Hanoi:
-
Tan Khai Pagoda, Dong Thanh Temple
They are the last two historic sites featuring the locality's spiritual life still remained on Hang Vai Street until now.
-
Hanoi Hostel Hotel at 32 Hang Vai is a small accommodation with 20 inviting rooms. The hotel charge is considered fair and the atmosphere is warm and friendly enough.
-
The street restaurant at 31 Hang Vai Street offers tourists golden chance to try a Vietnamese tasty dish with Vietnamese rice noodle, crispy tofu and shrimp paste. The price is reasonable and the owner is extremely easy-going and generous.