Where to stay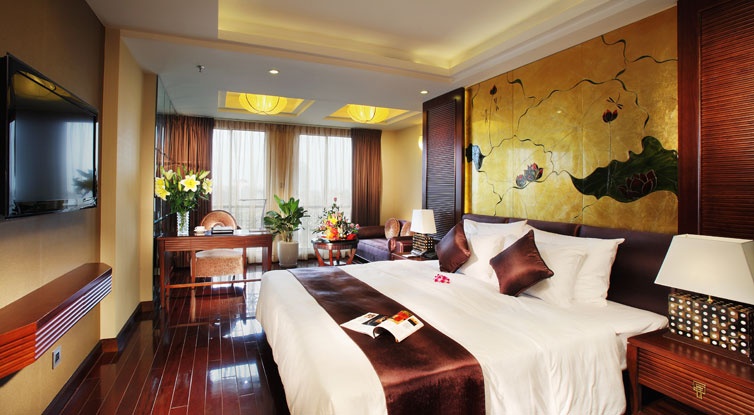 The Golden Silk Boutique hotel is named after its special location. The Hang Gai Street was originally a street studded by silk shops at the prime of Hanoi as a commercial hub. Silk merchants gather on this street living a prosperity life. Nowadays, Hang Gai is still a prosperous street with several silk shops but they are not necessary the same as the old ones of those good old days.
The Golden Silk Boutique thus takes pride in its international standard blended with local values. The Hotel. The hotel is on the rise thus they have just opened a presidential suite and a spa for extra leisure to its patrons. The guests may use the steam, the sauna and Jacuzzi facilities on a complimentary usage from Monday to Friday, with the exception of weekends and holidays. The experience of staying at this hotel gets even classier as the bar at the hotel- Rendezvous Bar hosts piano nights.
The Presidential Suite is another striking feature of the hotel. Located on the top floor- the tenth, the Suite occupies half of the floor. What really matters is its private Jacuzzi at the terrace of the top floor in which you can chill and watch the city view from the top. The Suite owns a mini bar and entertainment to host the guest's visitors.
There are only four Luxury Suites within the facilities. Two out them have a private terrace in which you can sip on your coffee and watch the hectic streets below. Another option is the Studio Suite with balcony. Every room out of this eight has its own terrace space. They also have a luxurious tub with nice shower.
The Oriental Restaurant at the Golden Silk Hotel aims for success and leisure. Though, it is a newbie in the capital's culinary scene. The restaurant features fusion cuisine and authentic Vietnam. The restaurant opens all day long which should be the case as the guests may feel hungry at unusual time due to jet lag.
The hotel also provides meeting room and business stationery to make sure your business trip successful as expected. You should spend sometimes at the Gold Silk spa. They have literally everything from a foot massage to a hot rock therapy. If you want it simple, then manicure as well pedicure never gets wrong anyway.