Where to stay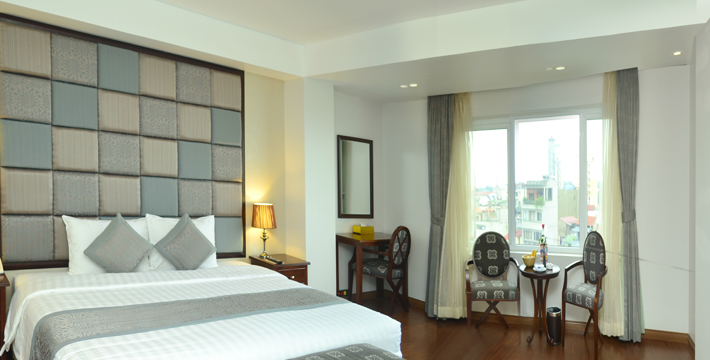 Thanks to flourishing tourism in the city, it has seen a strong growth in tourism-related goods and services accordingly in recent years. Beside improvements in popular tourists' spots, businessmen are now making every effort to provide diversified collections of accommodation compatible with all types of customers.
Rising Dragon is considered new as its establishment merely operated since 2008. Every guest absolutely feel happy with its convenient location at 61 Hang be Street, which provides easy accessibility to "most populous" places in the city like Hoan Kiem Lake, Ho Chi Minh mausoleum, West Lake and so on. This deep satisfaction also comes from time-saving transportation when a tourist tries to move from the airport to the hotel and vice versa. You even can arrive Ha Noi Train Station on Le Duan Street within 10-minute walk, meaning the big advantage that the hotel takes in this aspect.
In addition to that ideal position, every guest may be totally surprised by Rising Dragon in many ways. The hotel is ranked as a two-star one; however, what it offers, to many customers, may come out of expectation. Apparently, basic services are available namely as room service, dry cleaning and so on; more excitingly, superior facilities such as salon, restaurant, smoking area are added to the list as well. The hotel, therefore, is not only a shelter but also a mini entertainment centre for tourists to recharge at the end of the day.
Rising Dragon Hotel comprises of 35 well-appointed rooms. To those absorbed in Asian culture, this address, thanks to its gentle and Eastern style, becomes more desirable. There are four types of rooms open to you including standard, deluxe, family suite and superior. Which to choose is highly dependent on your financial capacity and your partners.
It is a big pity if you miss out any common places in Hanoi. The locality believe that Hoan Kiem Lake right in the heart of Hanoi is the place holding most of significant events and then its surroundings are worth a visit, too. For that reason, the following destinations should be always kept in your list:
-
Thang Long Water puppet theatre