Hanoi Streets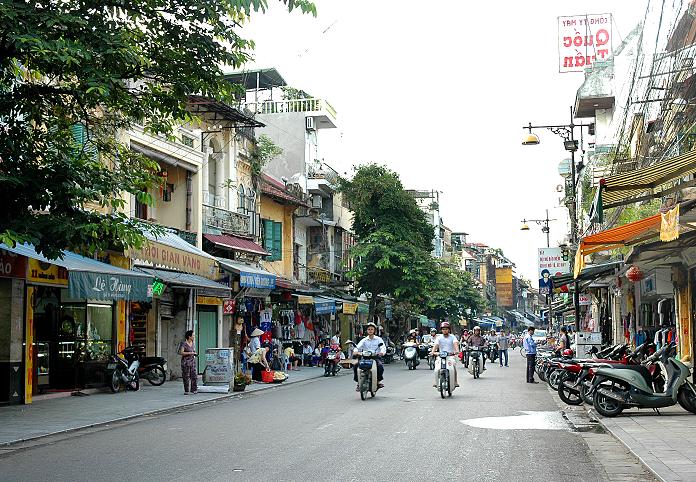 Hanoi with thirty six old streets and guilds appears unbeatable in one's mind as regarding to the heart of Vietnam. The ancient time has long been famous for busiest commercial activities through the northern area, characterized by a great number of conventional craft villages and clever craftsmen. Some has inherited their traditions; meanwhile, others have adopted various types of jobs to keep up with faster pace of life.
Belonged to the bustling area in the city, Hang Be Street was formerly a crowded place for trading 'be' – a primitive means of transportation, made of bamboo or wood. It resulted from its location pretty close to Red River. As time passes by, the street underwent many movements and then covers the distance between Hang Mam Street and Hang Dau Street at present. The street was once named as Hang Cau Street, reflecting betel-nuts 'selling and buying in this land.
It is hard to catch sights of those shops on Hang Be Street these days. Instead, it has seen a growing number of facilities and services mainly catering for tourism development. Some years ago, Hang Be Market, one of the best well-known outdoor markets in town dating from medieval time, was disintegrated for match with practical purposes. Not only Hanoians but also adjacent residents felt extremely regretful since the presence of market was stick to key events in the city and throughout the nation.
As mentioned, the dramatic increase in tourism goes long with big changes on Hang Be Street. Noting down the following places are possibly useful during your stay in Hanoi.
-
Bamboo Hotel at 32 Hang Be Street, Classic Street Hotel at 25 Hang Be Street
These two hotels are strongly recommended for accommodation in the Old Quarter. Located in a quieter place brings both chance to satisfy guests who prefer peaceful atmosphere of the surroundings.
-
Le Pub at 25 Hang Be Street, E-boss café at 44 Hang Be Street
Le Pub is nice stop for any tourist to Hanoi. If you love to make friends and learn new things, heading to the pub will be absolutely amazing. Otherwise, you can make your way to E-boss café to taste this Vietnamese drink.
-
Chica Restaurant at 27 Hang Be Street, Kangaroo Café Restaurant at 16 Hang Be Street
As you grow a special taste for localdishes, Kangaroo Café Restaurant mostly fits your demand. If it is not the case, nothing is better than enjoying meals at a Western-styled eatery named Chica Restaurant.