Hanoi Streets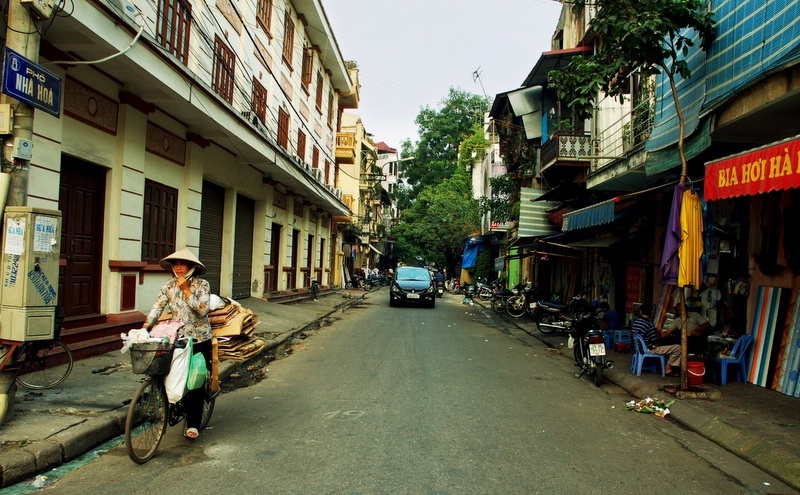 Nha Hoa means the house of fire in Vietnamese. Its name evolved from the one and only shrine of fire god in Vietnam located in this street. The street runs for 128m from the intersection of Hang Ga, Hang Dieu, Hang Phen, Cua Dong Street to the corner between Duong Thanh and Bat Dan Street.
This was originally the land of Yen Noi commune, ThoXuong District. In the map of Hanoi from 1831, the street used to extend longer covering the Chinh Dong gate of the Imperial Citadel.
During French colony, the street bore the name of Rue Feitshamel. After the communist revolution in 1945 August, the street name got changed into NhaHoa as in this street was the only shrine for the Fire God in Vietnam. The shrine now is the house number 30 of Hang Dieu Street. In the shrine, there was a giant bell to alarm on fire. The year of 1999 saw the recognition of the shrine as the National Heritage of History. The front of the Nha Hoa Street are studded by very few houses as contrast to its fellow streets. In Vietnam, the two sides of the street is the odd and even numbers. On the side of the odd number is two tiny houses (number 3 and number 5) and a one-story house at number 11. Meanwhile, there is only a big house on the side of the even number-number 6. Possibly because NhaHoa is only an adjunct street so the road size and its pavement are nothing near large. There is also barely a tree in the street.
Nha Hoa Street has two small alley on the side of odd numbers. Further inside these alleys are many small apartments which are adjacent to the houses on Cua Dong Street. The connoisseurs of the capital still remember fondly of a special coffee shop in these alleys which is a well-kept secret among its frequent patrons.