Hanoi Streets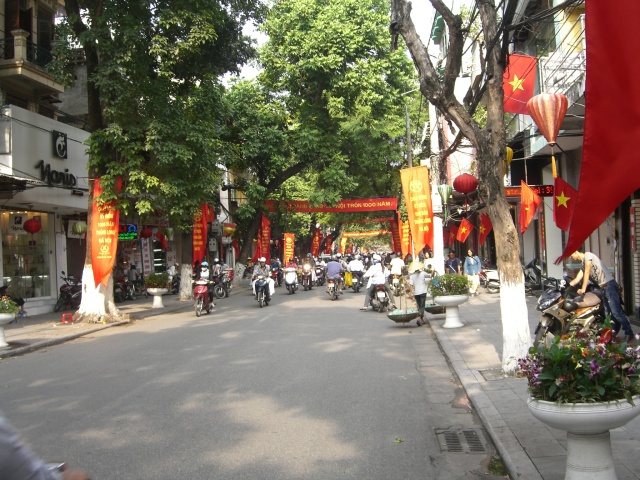 Belonging to Hanoi Old Quarter, Hang Bong Street has covered one of the longest history profiles since its initial stage. Like many neighboring streets, its name depicts major jobs took by the local as well as widely sold crafts there. Specially, it is fortunate that the street, whose total area is greater than others in town, has attracted growing number of tourists year by year.
Hang Bong Street stretches from Hang Bong crossroad to Cua Nam Gate, passing through main streets in the ancient town, namely as Hang Gai Street, Hang Trong Street, etc. Formerly, the street was a collection of small streets and villages specializing in typical products. Hang Hai Street linking Hang Gai and Hang Manh was renowned for items made of paper such as shoes, hats, offerings and so on. The following part was mostly chosen for cotton blankets and mattresses. People also hit the place for bring home some types of dyed clothes. If there had any competitions for crafts diversity, this old street would properly hold the first prize.
In the past, the bustling street housed various craft villages; turning to the modern stage, it still keeps those noise scenes but changes into a new form. In addition to top notch shops, the street now becomes a hot spot for the young in the evenings. You may think of stopping by a street food restaurant to taste some dishes and chit-chat with friends. Business and crowdedness on the street turn out to be the key to warm and friendly ambience there.
Thanks to diversified facilities and services offered on Hang Bong Street, you may head the space for many reasons. The following highlighted addresses are expected to bring more comfort and convenience for your stay.
-
Historical sites on Hang Bong Street provide you a closer look at past events and local spiritual life. Kim Co Temple at 2 Hang Bong is the holy place to honor the ancestor of making mirror. People also come to Kim Hoi Temple at 95 Hang Bong to show respect to the hero Tran Hung Dao.
-
An influx of hotels can be found on Hang Bong Street. Lucky Hotel at 81 Hang Bong, Hanoi Elegance Hotel at 106 Hang Bong, Twins Hotel at 246 Hang Bong are the most popular accommodation on the street.