Hanoi Streets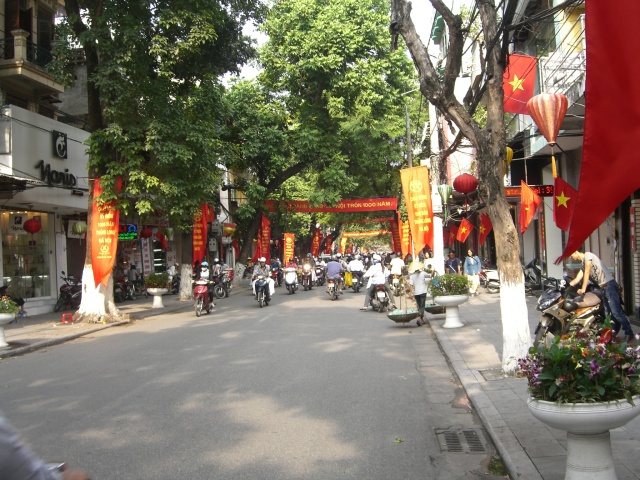 Hanoi is mostly known as a land for cultural exploration; however, the city is also regarded as a paradise for food addicts. Therefore, it is really hard for any Hanoi lovers to say 'no' to Hanoi street food. If a longer stay does not help you to name more popular food streets, you can follow our guidelines to head one of the best hot spots in the city.
Hang Bo Street sounds less familiar than other streets in town, but your first-time visit to Hang Bo Street will lead the second, the third and so on. Hang Bo has a great proximity to Hoan Kiem Lake and crosses through famous old streets such as Hang Ngang Street, Hang Dao Street, Thuoc Bac Street and so on. Previously, Hang Bo Street covered Hang Dep which mainly sold sandals and leather shoes. 'Bo' in the street name means baskets- the traditional craft made by the locality. At that time, the rice container was the most favorite product and got the highest number in sales. Additionally, in the old times, the street was also a place for haberdashery stores selling thread, zips, buttons and so forth. Noticeably, prior to Tet celebration, the street is full with Chinese paintings attracting tourists and locals to come and see.
As mentioned earlier, it is a pity that you enter this address without tasting any street food. Although street food restaurants are limited in quantity, its quality ranks quite high. Besides, other common places help you a lot with activities around the city.
-
Banh xeo (or sizzling cake) restaurant at 22 Hang Bo Street is an ideal place to taste that Vietnamese traditional food. That little eatery is quietly located at the corner of Hang Bo Street and Luong Van Can Street, attracting several visitors to come and give it a try.
-
Hoan Kiem Lake which is not far from the street is definitely worth a visit. Perfectly positioned at the heart of the ancient town, the lake is the popular spot for all Hanoians holding big national and regional events.
-
Dong Xuan Market is the central trading ground with easy accessibility from Hang Bo Street. You may purchase things or just go around to see things, particularly the local daily life.