What to see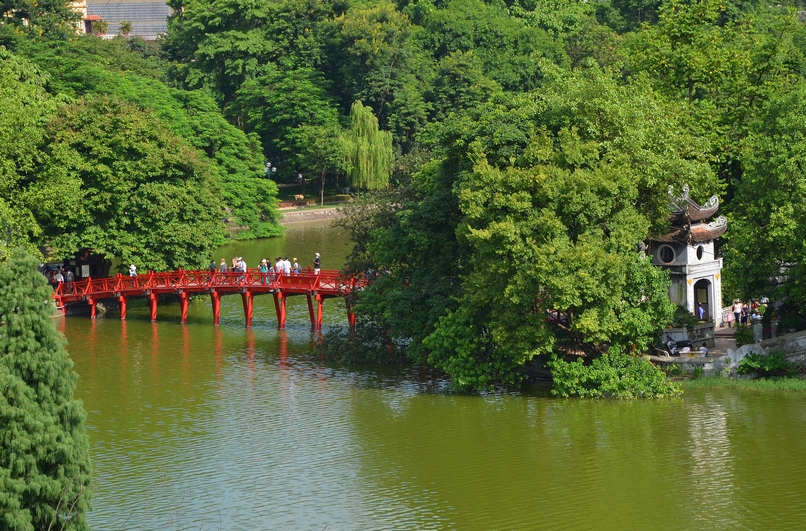 Location:
Ngoc Son Temple Located on Ngoc Son Island, Hoan Kiem Lake, Hanoi Capital. There are other names for this lake: Ho Guom (Sword Lake of Luc Thuy (Green water) for the reason that the water is green around the year. After that, from 15th century on, it was called by another name Hoan Kiem Lake (Returned Sword) whose legend belongs to the war against Ming invaders in Le Dynasty.
Each site and its functions
Ngoc Son Island was first called Tuong Nhi (Elephant Ears). Once King Ly Thai To moved the capital to Thang Long (Rising Dragon), he renamed it Ngoc Tuong and finally Ngoc Son Temple from Tran Dynasty. There was a temple erected in honor of the heroic martyrs who sacrificed in the war against Mongol army. However, it was then destroyed and rebuilt to be Thuy Khanh Palace. In 1843, based on the old Ngoc Son Temple which was built by a charity called Tin Trai, the temper experienced a restoration with many changes.
The Temple is a combination of Pen Tower, Doc Ton Mountain, Ink Slab, Huc Bridge and Ngoc Son Temple. Pen Tower is five floors one built in 18th century as the idea of Nguyen Van Sieu who followed Confucianism. You on the other hand will be impressed by its meaning: The Pen Tower is the symbol for Vietnamese desire for knowledge, there was not enough paper to text our knowledge, and we had to take the large sky as a big book which was so high that no one could steal. Moreover, Doc Ton Mountain and Pen Tower support each other when the mountain makes the Pen higher and the Pen also helps the other handed down forever. As a highlight, Huc Bridge is a red-painted one representing happiness and preventing ghosts into the Temple. In front of the Temple is Tran Ba Dinh – a communal house in order to hold back water and other evil spirits. Ngo Son Temple consists of the great ceremonial hall, the main hall worshiping Van Xuong- a great scholar of Vietnam and the back hall dedicating to King Tran Hung Dao.
Meaning
The combination between Ngoc Son Temple and Hoan Kiem Lake brings an integrated and ancient beauty and the feeling of relaxing to everyone coming here. It becomes the witness to recall the memories of the nation, wakening national pride of each Vietnamese.