Hanoi Streets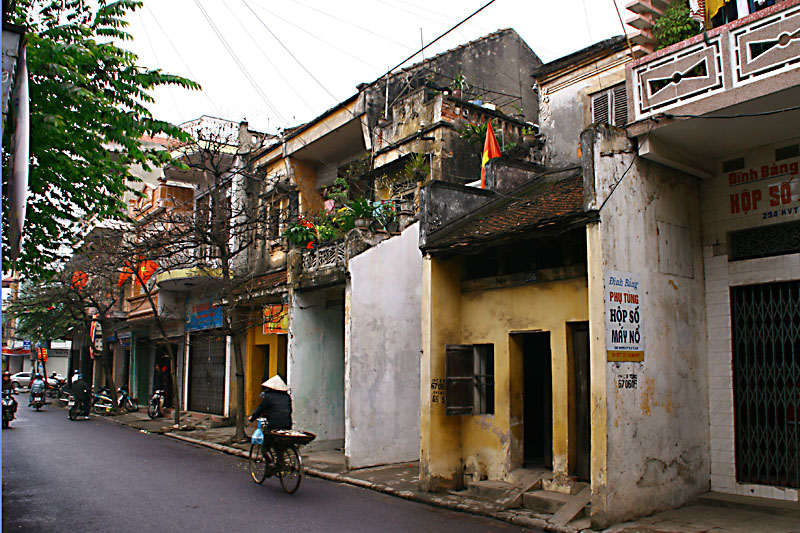 Hàng Gà
Hang Ga Street stretches for about 228m, belongs to Hang Bo Ward, Hoan Kiem District, Hanoi. Streets are oriented north-south, connecting Hang Cot with Hang Dieu Street. Hang Ga Street was built on the old ground of Tan Khai-Tan Lap village, old Tho Xuong district.
Hang Ga Street has the name as here is the dealer of poultry produce like birds , ducks , geese , turkeys , pigeons ... mainly sell at above the Thai Cam Temple, near the exit of Dong Thanh market. The poultry house did not open store but instead sold directly from the house with five to six dozens poultry in a cage. Frequent patrons often came to the house to purchase. In addition, poultry were brought to sell at Cua Dong market, or along the street or directly to restaurants.
Under French colonial period, Hang Ga Street and Thuoc Nam Street were collectively known as Tianjin, also known as Tientsin Street (Rue Tien Tsin), to celebrate the Tianjin treaty signed between France and the Qing Dynasty in 1885. But people still call this familiar Hang Ga Street – East Gate, because many people here often bring poultry to sell before the East Gate (East Exit ) and to distinguish them from Doc Hang Ga (Hom market today)
After the August Revolution in 1945, the revolutionary government took the official name as Hang Ga Street. Due to the proximity of Hang Ga Street with the East Gate military base, the war 1946-1947 did not damage many houses. This is also the period in some households taking advantage of the war situation, the sale of products to serve the war turned them rich quick and rebuilt the house in new style.
Hang Ga Street is one of Hanoi's Old Quarter. Most homes have narrow, old-fashioned area, low roof, a floor or attic. Since 1920, the poultry trade is no longer present, moving into the market. People living on this street are mainly middle class white collar or home business that has shops elsewhere.
Currently, Hang Ga Street is a quiet neighborhood from the bustle of the old town area. However, the city is still an interesting attractions for domestic and foreign tourists visiting Hanoi.
Highlighted spot:

Tan Khai old common house is at number 44 Hang Vai street

Tan Khai village temple is at the 16A Hang Ga Street.
Hàng Gai
Hang Gai is one of the streets in the Old Quarters. It starts at Dinh Tien Hoang Street, stretch to about 252m. Hang Gai is located on the old Co Vu village. It follows the old road up until now thus it curves rather than is a straight line. Co Vu village no longer leaves much relics. An ancient temple at 85 Hang Gai worships two gods inside, with the front of the temple standing a banyan tree. However, it was torn down and a new building was built.
A trace of the old town is the houses are staggered, misaligned; until about 1906 new Hang Gai Street had a sidewalk, with some still sticks out to the stones pavement. Houses in the old time were ancient houses with only 1 level with a small attic with no window or a small one overlooking the street. The front was usually narrow but deep inside, there were many layers, separated by a square yard. The rich family may use the common space for personal purpose.
Previously, this street sold things like hemp, jute rope, hammock, rope ... thus giving the name Hang Gai. The French translated this into Rue du Chanvre. After 1945 till now, the name Hang Gai Street remained, also known as Hang Thung. By the nineteenth century, books printing service prospered here, pushing the rope and hammock shops to Bat Dan Street. Hang Gai is also said to be "Literature Street"
Currently, Hang Gai is one of downtown's bustling old quarter of Hanoi. The street sells silk and handicraft goods. This is one of the city attract more foreign tourists to visit and shop, known as the most expensive land in Hanoi. Visitors can come here to buy the famed Silk particular Van Phuc silk and gown ordering express Ao Dai for you and your loved ones during travel to Hanoi.
Hàng Giấy
Hang Giay Street (Paper Street) is 208m long, part of the Old Quarters. The name originated from the old time when the workers from Buoi and Cot paper-making village came here to sell all kinds of paper like color paper, new paper, white paper board.... The front of the old buildings remain paper trading name of the famous shops in the past. Hang Giay Street names (Rue de Papier) was from the French era, after the revolution the name remained.
Hang Giay is built on the old ground of Dong Xuan ward, Tho Xuong district. In the past, the number 83 Hang Giay was Dong Xuan temple, worshiped Bach Ma. In 1925 the French took picture of this temple. Today, the temple has turned into shops.
In the early 20th Century, residents of the street were mainly middle class white collar, government officials who were reserved in private life. There were only a few small shops selling stationary, candy or medicine.
Before 1915, the street did not have sidewalks, no landscape nor trees, not many tiles, mostly thatched with brick walls and roofing. The buildings were not aligned. On the street there were small shops selling salted cucumber, tomato sauce or medication. After 1925, the new Hang Giay gradually built beautiful houses with western style wide-area, high ceiling, a number of wealthy merchants appeared. 1938 South Flower Hotel (now the Bac Do. cinemas) was built.
Gradually, Hang Giay Street became a grocery street. The only family on 58 Hang Giay keeps the traditional job. It then both sold paper, western books, and started a publisher. The shop helped spreading folk tales at the time of Pham Cong, Phan Tran, and Women baccalaureate in national language. Another famous location is the house number 42 where Nguyen Van Vinh (1880-1936) grew up. He is the pioneer of the printing press in the national language.
Highlighted spot
Hàng Giầy
Hàng Giầy Street, stretch to about 228m, belongs to Hàng Buồm Ward, Hoan Kiem District, and Hanoi. During the French colonial period, Hang Giay Street consists of two streets. From the beginning of Hang Chieu to the intersection Nguyen Sieu- Ngo Gach, it was called Hang Man (Rue Lataste). This is the land of the old Co Luong village, old Tho Xuong district.
The name Hang Man was because there is a family that made and sew curtains for hired. From the intersection of Ngo Gach-Nguyen Sieu to Luong Ngoc Quyen street called Hang Giay Street, also known as Nguyen Duy Han street (a government official name). This is the land of the old Hai Tuong village, old Tho Xuong district.
The name Hang Giay originated from 17th-18th century when shoemakers from Hai Duong came to Hanoi and did business. This is a small street with usually narrow and short houses. The first part of the street only had an old row of houses with curtains shops and candy making shops. The lower part of the street clustered small restaurants of the Chinese. All these shops only had one room with a cooking stove right next to the entrance. Guests usually came here for roasted duck, stewed beef or snake meat.
The street now has more clothing stores or eatery. There is a famous 'Che' and 'Banh troi nuoc' shop on the street. The street has transformed itself to fit with the modern society however there is still some olden feel about the street that gives the visitors a sense of nostalgia.
Hàng Hòm
Hang Hom is 100m in length with 31 odd number houses and 24 even number houses. Under the French colonial, it was called Rue des Caisses
In the nineteenth century, a number of rural family in Ha Vy- Thuong Tin district, Ha Tay province (now Hanoi) opened stores traditional wood painting, a profession of their village. Items made were originally boxes for clothing, casket for papers, painted black. The business began to thrive and become featured items of the street, giving it the name Hang Hom Street. After that, many people from the village went here to do business and establish a family house called Ha Vy, resided in house number 11.
By middle of 20th century, the style and designs of the wooden products changed. They used more lighter and inexpensive wood to produce with colorful exterior, fitting with customer's taste. Up until the Vietnam War, houses in Hang Hom were mainly 1 level and most of the street were deserted. However, on sunny days, the street sidewalks glowed with yellow wooden box, making it an impressive sight.
Hang Hom Street now no longer sells wooden boxes and items. There are more paint shops carrying domestic and foreign brand, along with varnishes, resins, adhesives. The street is more crowded and bustling from dusk till dawn everyday.
Hàng Khay
Hang Khay Street name is from ancient times, when it was connected to an end of Trang Tien Street. When the French entered, they group Trang Tien Street and Hang Khay street together, collectively named Tho Kham street. Items sold on the street was inlaid, tea chests, sofa, fronts, landscapes, portraits inlaid bottles, shells (also called nacre inlay) on wooden surface. These products came from Chuong My village. Handicraft items from here were crafted with high precision and skill. Pearls products from Chuong My were considered high end even from oversea. The Chinese admired and considered them as treasures.
Hang Khay has a very nice location. From here, one can have a panoramic view of Tortoise Tower, Ngoc Son Temple and The Huc Bridge. This position makes the destination for photography shops. The first store opened was the International photography shop by photographer Phan Xuan Thuy. He was honored to take pictures of Uncle Ho in the New Year 1945 at the Independent Presidential Palace. The photo has been awarded with honor by Ho Chi Minh museum.
The products selling on the street now still stay mainly the same as before. There are many beautifully crafted decorative boxes, statues made from wood, horns or stone in the various classy galleries. Hanging on the walls of these stores is the shimmering mosaic of Tortoise Tower, Ngoc Son Temple, The Huc Bridge, Khue Van The, One Pillar Pagoda poor
Highlighted spots

International Photography shop – 11 Hang Khay
Hang Khoai
Hang Khoai is three hundred and fifty meters away from the Red River to the intersection of Hang Luoc. Everyday suburban farmers, gathered next to Dong Xuan market, selling agricultural products, mostly potatoes: sweet potatoes, taro, along with rice, maize, beans, and cassava. Thus comes the name of the street. During the period when the US bombarded Long Bien Bridge, Hang Khoai was a key area under bombardment, making the residents to evacuate, deserted street.
The street can be divided into 3 section. The first part starts at the red river to 20 houses after. These houses were not good for business since they were next to Dong Xuan market thus owners rented out the houses for sellers from afar. At the middle section of the street, one side was for houses, another was for the Huyen Thien temple with a huge space in front. The last section of the street is near to Hang Luoc. This is where many food shops were open to sell porridge, Pho and green tea.
Hang Khoai now is crowded with shops. House number 2 is a little old house still sell all kinds of potatoes. Next to it are many small stationary shops and groceries. Some other shops sell towel, socks, raincoats. There are also shoes, gloves, suitcase, briefcase, sewing accessories. Huyen Trinh is a tobacco specialist shop. The middle of the street sells porcelain, glass, crystal: bowls, plates, cups, bowls, trays etc.. every glistening , shimmering , colorful At the end is a series of electric shop : electric cooker , microwave , blender , pots , pans non-stick , iron etc. ..
Highlighted spot
Hàng Lược
Hang Luoc is a street name starting at the end of Hang Cot Street, extending to the intersection of Hang Ma street (where borders between the Hang Chieu Street, Thuoc Bac, Cha Ca), 264m long.
Since 1920s, Hang Luoc has been famous for the item that is sold only during the Lunar New year: Flowers. Since the 23rd December (Lunar Calendar) until the New Year's Eve, flowers are sold along the street. People call it 'The Flower Market". For Hanoians, it is part of their habit to go to the market no matter how busy they are preparing for the New Year. In the recent time, the street sells flowers all year round. Freshly picked flowers, paper flowers, silk flowers or plastic flowers are just some of the types you can find here. The origins of the flowers can come from Hanoi, Da Lat, or imported from the Netherlands, Korea or China. Owners of these shops are usually students who are venturing into the business world while finishing their higher education degree.
On Hang Luoc, there is a Mosque for the Muslims in Hanoi to do ceremony on Sunday. Next to it are plenty hotels and restaurant. One of the long famous restaurant is the 'Que Huong' dog meat restaurant. There is also the Hong Kong bakery where delicious pastries are made. With the fusion of old and new, Hang Luoc Street is transforming itself to fit with the modern city.
Highlighted spot

Old Phu Tu Temple at 19 Hang Luoc

Old Vinh Tru temple at 59 Hang Luoc
Hàng Mã
The street is about 0.7km long with the old name in the French period as Rue du Cuive. Hang Ma is famous for selling wallpaper, color paper, gold paper coins (for worshipping)...In the past, small items used for funeral were produced and sold here while bigger things were sold on Ma May street. Over time, Ma May Street no longer sells items for funeral. The shops on Hang Ma did not escape the same faith with only a few shops left producing and selling them when there is an occasion.
In the recent time, Hang Ma still produces and sells paper products for funeral but with more variety. From houses to cars to even the Iphone, everything made here is a replica of the modern world in paper. July full moon day is known as death far, Vu Lan ceremony. According to folk belief is the most important occasion of the year for the children gratitude to ancestors and the deceased. Vietnamese believes that the dead will be just like the living so whatever is here will need to be sent to the dead. Stemming from this belief, Hanoians always gather on Hang Ma Street to buy these paper items to 'send' to the dead by burning.
During the Mid Autumn festival, street is especially colorful and happening. Shops sell from modern toys to traditional paper mask crafted by hands. From the lanterns to the paper lion head to the star light lanterns, all shades of red brighten the street during the time of the festival.
Hang Ma Street begins to be busier in the last full moon day of the lunar calendar in July for about a month, and 24th December (Lunar calendar) until the new year' eve.
Hàng Mành
Hang Manh Street is one of the 36 ancient streets of old Hanoi. It is 150m long, connecting Hang Non with Ly Quoc Su Street. During French colonial period, the street was known as "Rure des Stores". Hang Manh has been here for the past 100 years. The villagers of Gioi Te village from Ha Bac province came down here to open business. Their profession was to make bamboo mat and blinds.
During the revolutionary period, the end of 1938, the house number 1 on Hang Manh Street was then a barber shop by Mr. Nguyen Ba Song. This was the secret communication base for the communist party in Hanoi and was also a hide out for Mr. Hoang Van Thu. As one of Hanoi's old quarter where poor craftsmen resided. Thus Hang Manh, in addition to the blinds, only had small shops selling snacks or food. After 1920, home values rose, many people had money to buy land, refurbishing dilapidated houses, build new housing with rooftop.
In the last 20 years, only a handful of households produce blinds, such as Hung Hai at 1A, or Khang Loi at house number 3. Passing by the street, you can see some elderly artisans spanning the dancing blue dye mat, using red white gold paint to draw small clay pot, painted dragon and phoenix motifs on the cork and bamboo.
Products now are more diverse and much richer in designs. Many types of materials such as bamboo, wood, bark, plants have rigid stems, and leaves are used in family interior decor, such as table linen blinds, blinds fronts, curtain paintings, blinds, bamboo blinds lantern. The quality of products here is increasing everyday. Exports of these blinds or mat grew steadily over 15% / year over the past years. There are more than 200 designs, curtain designs are exported to 15 countries in all 5 continents like England, India, Germany, Holland, Italy, America, Japan, South Africa, France, Singapore, Turkey, Australia.
Hàng Mắm
Hang Mam Street is about 190m, in Ly Thai To Ward, Hoan Kiem District, Hanoi. Previously, Hang Mam included Hang Trung and Hang Mam. There was gate with guards at night.
Hang Trung stretched from Trang Quang Khai Street to Nguyen Huu Huan intersection. Thanh Yen temple, where worships the 2 Doctorate from the Vu and Nguyen family, is still at house 14A, Nguyen Huu Huan lane. The name Hang Trung came from eggs dealers doing business here. Eggs were packed in big baskets with straw and transported by boat from Phat Diem, Ninh Binh Province.
Hang Mam continued Hang Trung from the intersection to Hang Bac. This is where fish source and other seafood products were sold. Many shops store concentrated shrimp sauce in big in pint containers, diluted sauce were kept in containers. They were buried in the ground, cover. They were then sold in containers to wholesalers in other provinces.The following years more stores on Hang Mam cooked dried squid balls. A famous family business here is the house of Mr Cu Xuong (house number 6), Cu Hai (house number 1) and Cu Tai (house number 150). They were brothers. During the French colonial period, it was known as Hang Mam Street (Rue de la Saumure).
. The majority of Hang Mam is the old-fashioned, narrow and short houses. In 1891, a major fire, which destroyed many ancient houses in the street. Later, some were refurbished or renovated, repaired in the front to open shops. Hang Mam Street no longer sells fish sauce but other items such as tombstones, pottery, groceries,
Hàng Muối
Hang Muoi is a small narrow street connecting Tran Quang Khai and Nguyen Huu Huan Street. Hang Muoi intersect with Hang Tre and Hang Mam. It is not more than 100m long with not many shops or traveling vehicles. The name did not stem from an abundant number of households selling salt. On the contrary, there was only a few family doing salt wholesaling to major markets and other provinces.
Until the late 19th century, Hang Muoi was still part of a dike going along the red river. When the road was built, the east side of the street was so close to the river, some houses actually connected both the street and the river bank. Houses on Hang Muoi street were built in the early 20th century, on the empty land next to the red river where used to be a place to stack and chop wood. Because of that, there were more families selling and owning a wood shops on the street than salt shops.
Now, in the new era, Hang Muoi is transforming itself to fit with the new society. There are more shops selling furniture, car accessories or travel agents to sell tours to tourists. With that being said, much of the old quiet and not so happening norm is still kept. The street now is still not as bustling as other streets in the old quarter.
Hàng Ngang
Hang Ngang stett is 152m long, connecting Hang Dao with HangDuong. This is a one way street and is also a pedestrian's only street on Friday, Saturday and Sunday. Hang Ngang belonged to Dien Hung ward, Tho Xuong district during the old time. It is now part of Hoan Kiem district.
In the 18th century, the street was name Hang Lam where specialized in selling jade color silk for the King's officials. In the 19th century, it was changed to Viet Dong Street because there were many Chinese from Guangdong, China lived. The street was especially busy and rich thus they had to make a gate to close every evening. Thus the name Hang Ngang was born. As such naming of Hang Ngang was based on the historical event rather than the usual street naming in the Old Quarter.
Hang Ngang was also famous for the many Chinese dessert stores such as Sinh Thai, Chinh Thai, Ninh Thai and Song Hy. There was also Chinese herbs stores and groceries stores.
On this street, there was a famous house: House number 48. This was where Uncle Ho wrote the Declaration of Independence in 1945. Inside the house now, there was a stone stone plaque with gold inscription: "In this house, in a small upstairs room, President Ho Chi Minh wrote the Declaration of Independence, giving birth to the country the Democratic Republic of Vietnam". The owner of the house was Mr Trinh Van Bo who refurbished the old house in the contemporary architecture style under the French period. The House has 4 storey with long and narrow width, typical tube shape house in the Old Quarter. The house is recognized as a place with cultural and historical significant by the Ministry of Culture and Information.
Highlighted spot

48 Hang Ngang where Uncle Ho wrote the Declaration of Independence 1945
Hàng Nón
Hang Non now is relatively longer than most street in the Old Quarter. It started from Duong Thanh toward Hang Quat, 216m long. The part where it connected with Duong Thanh was originally 2 side walls of the houses which were then opened up to shops later on. The house 42 was the old village temple in the olden days.
In the past, the East side of Hang Non was where many hats shops operated. Until the beginning of 20th century, all men and women in Hanoi wore hats. Men hats were made from pineapple leaf or fur hat with silver or copper tip. For upper class women, they wore 'Non Quai Thao' while the lower class women wore 'Non Ba Tam'. From the 1950s onward, only middle aged men wore hats. Young men wore turbans carrying umbrella while women used fabric-umbrella. Lower class people wore hats made from leaf. The West side of Hang Non was where shops sold clothes for government officials, performers and special worshipping occasions.
The house number 15 was where hosted the first National 'Cong Hoi Do' Congree in 1920 by Mr Nguyen Duc Canh. To attend this, the members had to pretend to be wholesalers from other provinces to store goods at the groceries shops in front. After the economic crisis in 1930-1931, many hats shops in Hang Non did not do well so they had to relocate. However, some officials remained and changed to sell silk from Japan or Binh Dinh.
Now, Hang Non no longer sells hats but instead there are many different products. There are many clothes shops for youngster nearing Duong Thanh. While the other end has more cabinets and pantries made from aluminum frames.
Highlighted spots
Hàng Phèn
Hang Phen is about 100m long, connecting Thuoc Bac with Hang Ga, intersecting with Bat Su Street. Originally, Hang Phen only had 1 storey houses. After 1930, they were rebuilt to 2-3 levels. The name, like many other street, came from the products were sold here: alum. There were black alum, blue alum and alum to filter the river. During that period, many households in Hanoi did not have a clean water. The local had to carry water from the river back. They had to wait for the alluvial to deposit by using alum before using it. Alum was bought in chunk then being smashed into small pieces before use. Now, beside alum, many family in Hang Phen also sells food, groceries and clothes to fit the need of the locals.
During the end of Le dynasty, beginning of Nguyen dynasty, there was a market called Dong Thanh market. Because of that, under the French colonial, the government called this 'Old market street - rue du Vieux Marché. After the revolution, the current name appeared.
House number 29 belongs to Mr Dao Van Du. He is the only watchmaker in Vietnam with 7 certificates for his craftsmanship by famous international brand like Rado, Omega and Longines. Especially, he joined the bomb team to install time bomb during the war with the US. He was also the one taking part in installing, technical testing for the clock on top of the Hanoi Post Office. On 2/9/1978, the clock on top of the post office rang the first bell. It rang every one hour. During the New Year's Eve, the clock bell rang, indicating a special moment of transiting from the old year to the New Year.
Highlighted spot

House number 29 of Mr. Dao Van Du, a certified watchmaker.
Hàng Quạt
Hang Quat is 200m long, connecting Luong Van Can with Hang Non. During the French colonial, it was called Rue des éventails and then officiallized after the August Revolution as Hang Quat. It was called like this because there were many shops, both producing and buying fans from all over to sell. The profession was brought here by the Dao Xa villagers from Hung Yen province. They came here and built a temple at the house number 4, calling Xuan Phien Thi temple, and meaning spring fan market. Fans here came from Kim Lu village. There were paper fan or silk fans or feather fans.
Hang Quat in the past included 3 different streets: Hang Quat, Hang Dan and Ma Vi. Hang Dan was where sold various Chinese musical instruments. In the early 20th century, shops on this street changed to wooden products. Ma Vi Street sold costumes for festivals and holidays as well as embroidery. In the recent time, Hang Quat no longer has Fans. Most shops have changed to sell large and small alter, embroidery, letters on fabrics for different occasions.
Highlighted spots

At house number 64, there was a temple called Dau. In the old time, there was a big strawberry field so the people called it Dau (strawberry) temple.

The temple worshipping Ban Canh is now at house 74.

School of continuing education Nguyen Van To is now at house 43. This was the earliest private school in Hanoi then.

House 21 belongs to the famous businessman and artist Nghiem Xuan Huyen. He was the owner of Rang Dong printing house as well as editor of 'Northern Sport' newspaper (1930) and 'The bee' newspaper (1936). These 2 newspapers meant to criticize the colonial government. He was also father in laws of the late musician Van Cao.
Hàng Rươi
Hang Ruoi Street is about 110m long, named Rue des Vers Blancs under the French colonial period. In the past, during September (lunar calendar), many people from Thai Binh, Hai Duong, Hai Phong, Nam Dinh province came here to sell clam worms, thus resulting the name. Clam worms are special food of the northern area. However, it only appears for a short period of time. During these times, Hang Ruoi is bustling with visitors to try different dishes with clam worms. Restaurants offer various dishes from patty to boil to spring rolls...all made from clam worms. It is nutritious with lots of protein and most of all safe to eat.
Like many other streets, Hang Ruoi no longer sells Clam worms. Shops move to sell flowers, especially the exotic and expensive types. They are shaped by many materials from silk, nylon with cheap price and very durable. 2/3 of the stores here sell fake flowers with incredible skills that can only be distinguished by touching them. Shops like Van Vuong, Hoa Trang An and Truc Anh Hien even have classes to teach flowers arrangements.
During the Mid Autumn festival, Hang Ruoi is transformed into a street of colorful toys and decoration for the festival. It is one of the 3 streets in the Old Quarter designated to be the mid-autumn market to sell toys for children. When the lunar New Year is near, Hang Ruoi is glowing with decorations for the New Year with lanterns and flowers.
There was a historical house related to the revolution. It was the house number 4. This was where the communication headquarters of the Communist government operated between 1929-1930 periods. This is where Mr. Tran Phu, the first Party secretary worked.
Hàng Than
Hang Than is about 1,6km long connecting Hang Dau with Yen Phu. It sold charcoal delivering from boats and ships. Charcoal was then used to warm up the bed, grill meat patty for 'Bun Cha' or grill corns for the winter.
Historians said that the start of the street used to be a place to boiled lime water, lime for construction and lime for eating. The middle of the street had a row of luscious yellow flowers tree. The opposite of that was a row of willow trees. Thus it was called Lieu Giai.
Hang Than is famous for the 'Com Cake'. This chewy little treat is squarish in appearance with a freshly green colour from Com and bean paste inside. They are wrapped in small piece of plastic bag, which then individually placed in a small green box. The cake has a distinct aroma of Com, the fresh delighting smell of young rice grain. Both the outer layer and the filling are cooked with sugar, forming a sticky mix.
This unique Hanoi food was made by the ingenious of Mr Nguyen Duy, who is living in Hang Than street. Com cake is part of the traditional Vietnamese wedding ceremony when the man asks the woman's family for hand in marriage. He would have to bring Com Cake along with many other treats as a form of gift. Musician Duy Quang, who has many songs for children, especially for disadvantaged children, came from the family that produces the famous Com Cake brand Nguyen Ninh. His house stored dozens of boxes of this cake.
Today, there are still some families selling Com Cake in the old small houses with tiny windows and moss collecting on the rooftop. Some houses have the floor slightly raised compared to the street level.
Hàng Thiếc
Hang Thiec is 136m long, connecting Thuoc Bac with Hang Non. This is one of the oldest street in the Old Quarters. This was the street for craftsmen specializing in making peanut oil lamps, candles, incense, tea tray, tea drinks, tea bags, cone made from tin. After development of iron, they moved onto this too. So that the French called the street Rue des Ferblanties (iron maker), but the street was still referred to the old name as Hang Thiec.
In the year 1940 of the 20th century, when there were abundant number of unused tin barrels of oil. Workers from Hang Thiec used their craftsmanship to turn them into tiny little lamps. The resulting products were durable and corrosive resistant. Subsequently, they introduced to more things such as washing pots, water buckets or drainage gutter to serve daily usage. Orders came from all over the countries, workers here found it hard to keep up with the huge order. Thus the street, day and night, was always busy with the sounds of workers making the products.
Over the years, Hang Thiec has not changed much. Everyday, there is still the tingling sound of hammers on the piece of tin, making practical products for everyday life. The money paid to make these tin products is rather little so all shops on the street receive orders then hire people from other villages to make. Shops here only sell products. When plastic products started to enter the market, some shops worried that this will affect the sales. However, tin products prove to be still in favor by many. Some family is able to retain the tradition passing down from generations before despite the rapid change over the years. This shows to prove that the long standing traditions of the houses inside the Old Quarters is able to resist the test of time.
Hàng Thùng
Hang Thung is 216m long, connecting Tran Nhat Duat with Hang Be. The name stems from the past when the street used to have lots of shops producing and selling wooden boxes for water or fish sauce. Under the French colonial, the street was called Rue des Seaux. The business of selling wooden and bamboo boxes eroded over time as family could afford water filter or a wells so they did not need to carry it from the river back.
The street used to be divided into 2 parts. From Tran Nhat Duat to Nguyen Huu Huan, the street used to be called Phúc Châu Street (Rue Foutchéou) which was later renamed to Rondony Street. The separation was because the first half of the street used to sell wood and bamboo while the second half had box making profession. The first part was to sell wooden products such as bed, cupboards or coffin. This business was booming, allowing many family to get rich quickly, having more money to refurbish the old traditional Old Quarter houses. The second part was to sell boxes
Highlighted spot

House number 33 is a place for a small shrine of So Trang village in the old time.