Where to stay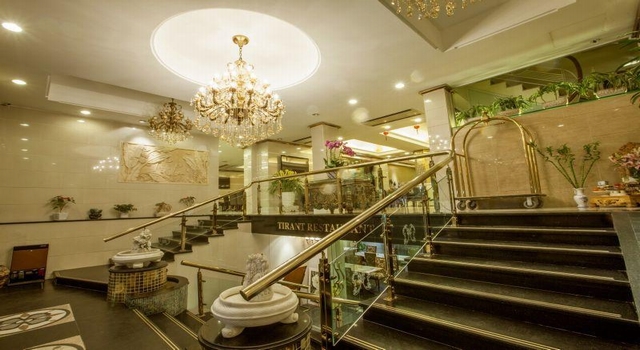 Gia Ngu Street is a small yet beautiful street stretching from Hang Be to Hang Dao Street, known as a nice stop for those favoring tranquility and peacefulness in the heart of the Old town. Accordingly, it is not usual that a great number of travelers opt for an accommodation on the street to enjoy their trip in a very special way.
Tirant Hotel remains a fond memory for all those who used to stay there. Thanks to its good location at 38 Gia Ngu Street, the hotel may go along with a lot of advantages. The first impression the hotel makes on first-timers is the quiet surroundings suited for relaxation and rejuvenation. Yet it is amazingly closed to Hoan Kiem Lake and within walking distance to any streest in the Old Quarter.
It takes about 50 minutes to drive from Noi Bai International Airport to the hotel entrance and another 7-minute drive to reach Le Duan Train Station.
At Tirant Hotel, all facilities and services may please even the most discerning guests. You can not agree more with every single of their offerings such as 24 hour room service, babysitting, shuttle service, safety deposit boxes, bicycle rental, airport transfer and so on. The place becomes further attractive with the elegant restaurant, the small bar, the coffee shop and smoking area. Animal lovers even feel excited since the hotel allows guests to bring their pet along so that they can closely look after for it. It is also possible that a businessman can enjoy their trip without ignoring his work as highspeed internet is accessible from every single corner of the hotel.
There are 5 room types which are classical queen bed room, deluxe room, premium deluxe room, executive room and suite room. They vary in view, the number of beds and also some additional services included. Therefore, which to choose is strongly dependent on your preferences.
It is recommended that you not miss the chance to go around places close to hotels such as:
-
Thang Long Water Puppet centre