What to see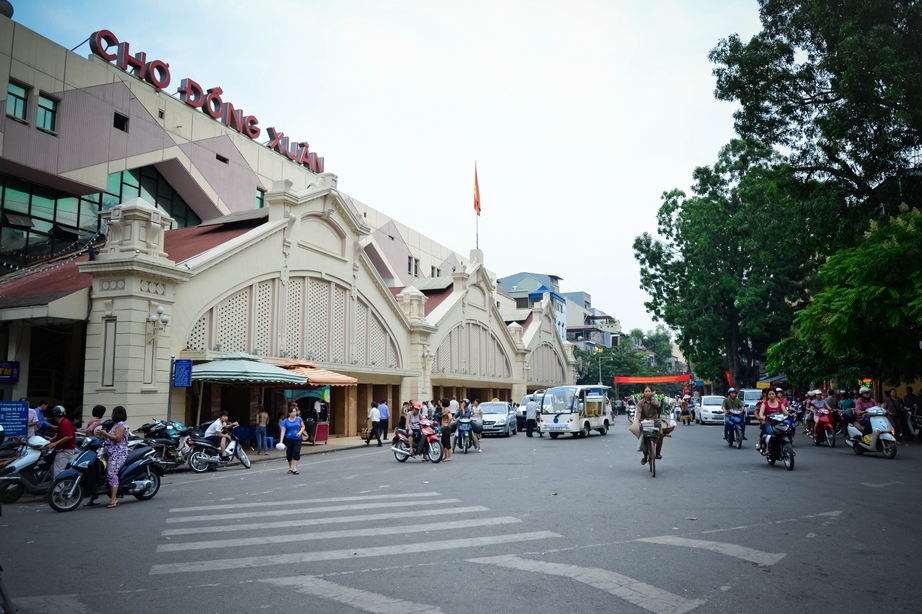 At the eastern end of Hanoi Old Quarter is the Dong Xuan market which has been through quite many ups and downs just to become a long-lasting symbol of the Old Quarter. The Dong Xuan market is actually pretty young as compared with other parts of the Old Quarter. In 1889, its construction was launched together with the occlusion of a part of the city river. The vast empty lot posed as a perfect destination for commerce with its proximity to the river and the heart of the city.
Like other constructions in that era, the Dong Xuan market was designed in the French style with five large arches. The interior was simplified for easy moving and stocking. After the launching of the Long Bien Bridge over the Red River, the Dong Xuan market was even more popular as the leading commercial hub in the Northern Vietnam. The sudden fame attracted a flow of merchants from France, Spain and India. The market also was home to several trade headquarters of Chinese, French, Indian and Vietnamese merchants. The market was at its height then boasting of various categories of goods. There were machine from France and China, farm products from the Northern and Middle Vietnam, French cotton and Bombay silk.
The market is not only a trade hub but also a historic site witnessing the war and peace of the capital. Many patrioticsacrificed their lives here in the winter besiege against the French legions in 1946. They volunteered to stay when their comrades move factories and people into the guerilla zones in preparation for a decade-long war against the French colonizers. The market stood the test of severe bombings during 1972 by U.S B52. In early 1990s, it was renovated for more space. Two arches at either ends were torn down while the middle three arches are attached with two more stories. Not so later in 1994, the Dong Xuan caught on a fire which destroyed almost all of the merchandise in the market. This has been so far the most destructive and largest market fire in the city's history.
Nowadays, the market is a place for wholesalers with electrical goods, household appliances and clothing. To tourists, the market is a fun place to watch an every-day market of Vietnamese. Do not forget to bargain to buy more reasonably priced souvenirs. The front of the market is in the merriest ambiance during weekends when the night market gets going. It is fun to walk around watch the occasional show of Vietnamese folk songs. Save some of your stomachs for the steaming hot pot in sync with the warm, fragrant coconut wine.