Hanoi Streets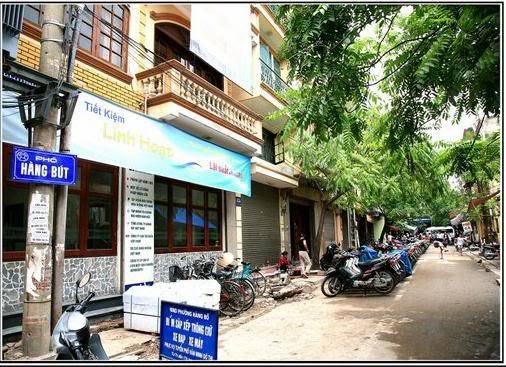 It comes as no surprise that the Old Quarter is truly a matrix for first-time visitors to Hanoi. Due to its variety and complexity, the Old Quarter turns out to be a real challenge for explorations. However, everything is much easier if you can acknowledge a little about Vietnamese and streets' history before you go to make sure you are heading the right destination.
The streets were formerly named after the crafts sold at the individual street. For instance, Hang Duong Street was famous for sweetened food, Hang Bac Street was a chosen place for jewelries and accessories, etc. Similarly, Hang But Street was mostly known as a commercial ground for stationery. Even more interestingly, the street may be the most 'volatile street' for numerous changes in local life and names accordingly.
After previously experiencing some integration with surroundings, Hang But Street now occupies the area between Thuoc Bac Street and Bat Su Street. From the initial stage, the street was called Hang Mun, coming from local heavy reliance on collecting cloth to make things for babies. At the same time, thanks to its closeness to Thuoc Bac Street mainly selling Chinese herbal medicines, people took jobs in medical shops on the neighboring street. Later, under French colonial rule, the street's name was changed into Rue Combanère. Trading activities on the street also turned to selling and buying items mostly catering for studies such as paper, ink, pen brushes and so on.
Along with tremendous changes in national situation, the street has also made a lot of differences signaling its very quick adaption to fast life pace. You definitely cannot see any remnants from the past like cloth shop or stationery shop; instead, goods display is becoming more diverse tofit with economic movements.
Knowing about familiar places on Hang But Street does help your trip a lot. For that reason, the following highlighted are supposed to support you further.
-
Hanoi Capital Hotel at 4 Hang But Street is a newly construction with modern design and adequate appointment. Its proximity to favorite spots such as Hom market, Thong NhatPark will utterly bring more fun and joy for your stay.
-
Street food restaurant lining along the street gives you opportunity to taste well-known Vietnamese noodle, namely as rice noodle with pork meatball and salad, steamed rolled rice pancake, etc.